Americorps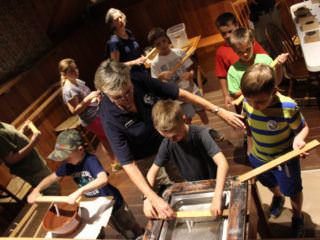 Do you love working with kids? Are you committed to diversity, equity, and inclusion? Do you like meeting new people? Are you interested in history and connecting the past to the present in fun ways? Then this experience might be for you!
Old Sturbridge Village, the largest living history museum in New England, is seeking dedicated, service-minded individuals to be part of our new education-based AmeriCorps program launching in September 2023! The program will serve elementary students across Central Massachusetts. Corps members will gain teaching and program development experience in afterschool and community programs in a supportive, team-based environment.
Old Sturbridge Village is committed to promoting diversity. We are passionate about developing and maintaining an inclusive, equitable and accessible working and learning environment for all visitors, staff and OSV community members. We believe every member on our team enriches our diversity by exposing us to different ways of understanding and engaging the world around us.
Program Name: Community-Based Museum Program
Position Title: Old Sturbridge Village Community-Based Educator
Location: Member placement will be at the Museum Education Center at Old Sturbridge Village. Old Sturbridge Village, the largest outdoor history museum in the Northeast, depicts a rural New England town of the 1830s and is located in Sturbridge, Massachusetts, the homeland of the Nipmuc peoples.
Individuals/Teams will also be assigned to partner sites in Central Massachusetts after-school programs. Locations include Worcester, Webster, Southbridge, and towns in the Quaboag School District.
Purpose:
The Community-Based Museum Educator will serve in afterschool programs across Central Massachusetts. OSV's program aims to increase access to enrichment activities and grow student engagement through project-based learning curriculum. The program aims to strengthen ties between the museum and the community by bringing the education programs out into the community. AmeriCorps members will be developing fun and engaging hands-on lessons for students, working directly with students in after-school and community settings, and be based in the Museum Ed department of a large museum
This is an AmeriCorps position- not a typical job- and requires a commitment to serving at OSV, a private non-profit museum, in order to serve the broader community through history-based educational programming. It requires embracing the concept of service, of joining a team of other Corps members, and being part of the learning community of Old Sturbridge Village. If you aren't familiar with the concept of service, that's ok! A big part of the program is learning and personal growth.
Responsibilities:
Essential Functions:
Teach project-based learning curriculum in teams of 3-4 to elementary students in afterschool programs around Central Massachusetts
Work collaboratively with other members to develop engaging, fun, and culturally-responsive project-based learning units relevant to OSV's historical time period (early 19th-century New England)
Prepare and organize materials for daily lessons
Administer program evaluation tools
Travel daily to afterschool partner sites. Corps members will either carpool using Corps member vehicles (and be reimbursed for mileage) or use an OSV vehicle.
Develop and implement activities for community programs based either at Old Sturbridge Village or at community sites around central Massachusetts
Marginal Duties:
Assist with program data collection and input
Help with resetting spaces and supplies at the program sites
Prepare supplies for daily Museum Education programs at OSV
Observe education programs
AmeriCorps Eligibility Requirements:
US Citizen, National, Lawful Permanent Resident, and persons legally residing in a state
Must be able to pass a national service criminal history check
Must be 17 years or older with a high school diploma or equivalent
Qualifications:
High school diploma or equivalent
10 month commitment to service
Interest working with elementary aged students
Interest in education, history, and/or museum learning
Flexible and adaptable with a curiosity about service
Demonstrated commitment to valuing diversity and contributing to an inclusive working and learning environment
Bilingual, bicultural preferred
Benefits of Service:
Optional on-site housing provided at no cost
Living allowance of up to $11,500
Training and professional development opportunities in project-based learning, culturally responsive teaching practices, DEIA, informal education, and OSV educational/historical programs
Career support and networking opportunities with museum, school, and community partnership staff
Access to AmeriCorps Alumni Network and Employers of National Service network
Loan forbearance on qualifying loans
Education award upon completion of service term ($4,826.50)
Service Commitment:
Term of Service: This is a three-quarters- time program. Members must complete 1200 hours of service over the course of the 10 month service term (including breaks for holidays and sick time).
The service term begins on September 5, 2023 and finishes June 28, 2024. Move-in for members who select housing would be offered September 3rd-4th.
Schedule/Time Requirement: Members can expect to serve an average of 30 hours per week to meet their minimum hours. Members will be expected to serve from 11am to 6:30pm in afterschool programs. Some weekend and evening work will be required when holding community events. Members can expect to work one weekend or additional evening each month.
Members also serve on national, state, and local service project days such AmeriCorps Opening Day and MLK National Day of Service.
Reasonable accommodations can be made at any time during the application process or during service. To request an accommodation, contact Human Resources Manager Demi Wrobel at dwrobel@osv.org.
OSV's Community Based Museum Program prohibits all forms of discrimination and harassment based on race, color, national origin, gender, age (40 and over), religion, sexual orientation, disability (mental or physical ), gender identity or expression, political affiliation, marital or parental status, pregnancy, reprisal, genetic information.
Applications for the 2023-24 term are CLOSED. 
---
What is AmeriCorps?
AmeriCorps is the federal agency for national service and volunteerism. AmeriCorps provides opportunities for Americans of all backgrounds to serve their country, address the nation's most pressing challenges, and improve lives and communities. More information about AmeriCorps can be found at www.americorps.gov