Towne Dairy Receipts
We are so glad that you are interested in making cheese and butter yourself. The recipes that we have listed below are meant to keep the soul and fun of historic receipts while tailoring our instructions to our modern kitchens (we understand not everyone has access to a large fireplace). Good luck and have fun!
The following modern instructions for soft cheese and butter were put together and tested by summer college interns Ahna B. and Lauren G. with support from the Village's Coordinator of Households and Foodways. 
Soft Cheese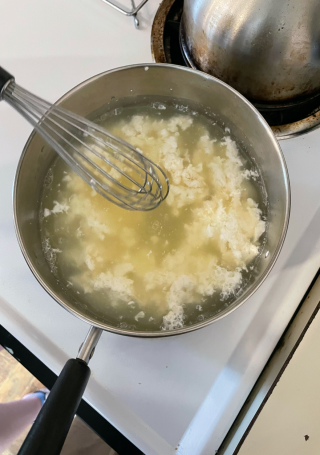 Time to make: 1 hour (25 minutes preparing, 45 minutes waiting)
Things You'll Need:
One quart of milk (we use whole milk at the village, but Lactaid also works for our lactose intolerant friends)
About one half a cup of apple cider vinegar or until the milk curdles (can also use any edible acid, such as lemon juice)
Roughly one tablespoon of salt (to taste)
Thin cotton or linen cloth
Whisk
Bowls
Steps:
Heat milk in a pot over medium heat for about 8 minutes, or until "body temperature" (when the milk feels about the same temperature as your body).
Remove from heat and pour in apple cider vinegar and stir using the whisk until it separates into curds and whey, then salt the mixture (see figure 1).
Place cloth over a bowl then strain the curds away from the whey, then lift the sides of the cheese cloth and drain.
Hang cloth with curds from sink faucet for about 45 minutes, or until the whey has stopped dripping and the cheese feels solid.
Enjoy!
Butter
Things You'll Need:
Figure 2

1 Quart of heavy cream

A pinch of salt (optional)
Jar or another sealed container
Marble/Stone (something small but solid to agitate the heavy cream)
Bowl
Spoon or spatula
Water
Steps:
Pour heavy cream into a jar, about half of the way full.
Add a clean marble into the jar and screw the lid on tightly.
Shake the jar until the cream forms a pad of butter at the bottom of the jar and there is very thin liquid (buttermilk) throughout the rest of the jar (see figure 2)
Pour the contents of the jar into a bowl, remove the marble.
Pour cold water into the bowl and squish it throughout your butter with the back of a spoon or paddle. Pour out water after thoroughly working it through the butter. Continue this step until the water runs clear.
If you would like salted butter, as we would have enjoyed in the 1830s, add a pinch of salt to your butter and work it around with a spoon until it is completely folded into the butter.
Enjoy!