Taste of New England Summer: History Bites
Thank you for coming to our first Taste of New England Summer Event, celebrating the summertime traditions of New England past and present! 
Old Sturbridge Village celebrates New England every day through the preservation of historical buildings, skills, crafts, music, and foodways. Throughout the year, you can see our costumed historians hard at work growing food in the fields and gardens, preserving the harvest with tried-and-true methods of the past, and cooking historical receipts (recipes) from early 19th-century cookbooks.
Times and tastes have changed in 200 years, but the early 19th century still provides so much inspiration for the kitchen. Our historical Foodways staff and modern chefs worked together to plan the menu for Taste of New England Summer. The dishes available during the event were inspired by historical receipts, some of which you can find below. We hope you will continue reading to learn more New England history and maybe even try making a 19th-century dish at home!

Massachusetts | Est. 1788
Historical Bites: 
Stewed Beans
Stewed beans, the stovetop version of baked beans, were an early American staple. While some beans were stewed over the fire, as suggested in this receipt, many were baked in ovens on bake days. Added to the oven first and allowed to slow cook in the cooling oven all night, these beans would be soft and warm for breakfast or dinner the next day, making them a perfect addition to a Saturday bake day.  Many New Englanders kept the Sabbath on Sunday, attending Meetinghouse services and avoiding any unnecessary work.  Warm beans from Saturday's baking, with no additional labor, were waiting for the family on the Sabbath. While early American beans were a savory dish, it is the later 19th-century addition of molasses makes the Boston Baked Beans that Massachusetts is now famous for.
View Historical Receipt & Modern Translation for Stewed Beans
Original Receipt: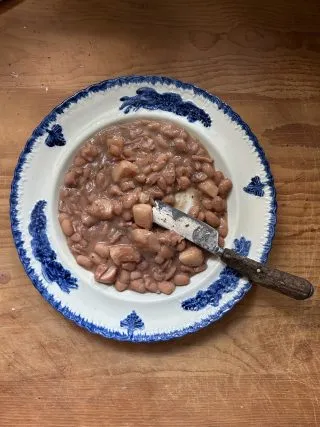 "Baked beans are a very simple dish, yet few cook them well. They should be put in cold water, and hung over the fire, the night before they are baked. In the morning, they should be put in a colander, and rinsed two or three times; then again placed in a kettle, with the pork you intend to bake, covered with water, and kept scalding hot, an hour or more. A pound of pork is quite enough for a quart of beans, and that is a large dinner for a common family. The rind of the pork should be slashed. Pieces of pork alternately fat and lean, are the most suitable; the cheeks are the best. A little pepper sprinkled among the beans, when they are placed in the bean-pot, will render them less unhealthy. They should be just covered with water, when put into the oven; and the pork should be sunk a little below the surface of the beans. Bake three or four hours.
Stewed beans are prepared in the same way. The only difference is, they are not taken out of the scalding water, but are allowed to stew in more water, with a piece of pork and a little pepper, three hours or more."
American Frugal Housewife by Lydia Maria Child (1832)
Modern Translation:
Ingredients
12oz salt pork
1 lb (3 cups) of dried beans*
1 tsp pepper
8 cups water
Salt
Instructions
Carefully remove the skin from salt pork and discard**. Cut salt pork into bite-sized cubes.
Put dried beans, salt pork, pepper, and water in a medium saucepan. Place over high heat and bring to a boil.
Reduce to simmer, cover, and simmer until beans are soft, stirring occasionally; around 3 hours. If too watery, remove lid and simmer until desired thickness is reached.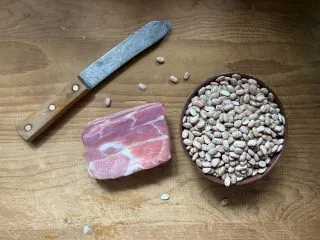 *What kinds of beans are best? Most dried beans will work. For the pictured beans, we used pinto beans. Early American settlers were introduced to beans by Ingenious Americans, and in the 1830s many varieties of bush and pole beans were grown across New England gardens such as Jacob's Cattle, Case-knife, Wren's Egg, Scarlet Runner and Solider Beans.
**Want to be really frugal? Do not discard the skin, but use it to grease the pan of whatever you fry to go with your beans!
Short on time? These beans will cook up easily in a crock pot overnight.
Cranberry Tarts:
It is hard to imagine, with Massachusetts now the home to Ocean Spray cranberries, but in early America, cranberries were a largely wild-harvested crop. Children might be sent out to gather the berries to be cooked, sugared, and maybe even spiced to be enjoyed with poultry, in pies, or in small tarts like these. Fruit tarts could be made with fresh fruit in season, or in the off-season, with preserved fruits, baked into crusts.
View Historical Receipt & Modern Translation for Cranberry Tarts
Original Receipt:
"Stew your cranberries;  when done, add same quantity of  sugar;  make a  rich pastry,  roll it thin, make small tarts."
New England Economical Housekeeper by Esther Allen Howland (1845)
Modern Translation:
Ingredients
16 oz (about 4 cups) cranberries
1/4 cup water
1 1/4 c sugar (about)
Tart crusts*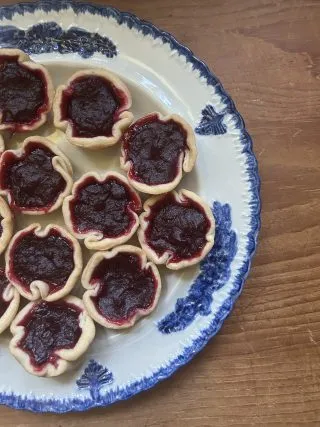 Instructions
Put cranberries and water into a medium saucepan with a lid. Place over medium heat, stirring occasionally, until almost all the cranberries have popped, about 15-20 minutes.
Place wire strainer over a heat-safe container. Carefully spoon hot cranberries into a strainer and use a wooden spoon or a pestle to separate cranberry puree from the skins.
Measure the amount of puree collected by volume and add the same volume of sugar.
Mix sugar and puree in a saucepan over medium-high heat. Simmer puree, stirring continuously until thickened, about 10 minutes.
Remove from heat and let cool to room temperature before spooning into your favorite tart crusts.*
*Don't have a favorite tart crust? Try adding a little powdered sugar to your normal pie crust receipt or looking for pre-made crusts in your freezer section. If using pie crust with powdered sugar, you can put the dough into a miniature cupcake pan and bake at 325°F for about 20 minutes
Featured Building:
Freeman Farm
Built c. 1815, Sturbridge MA
Pliny Freeman and his family lived in this house in Sturbridge in the early 1800s. During this era, farm families were very busy with a myriad of tasks in the home, in the kitchen garden, and out in the fields.
Featured Historical Figure:
Abigail Kelly Foster
Abigail Kelley Foster (1811-1887) was born in Pelham, MA to an average Quaker family. Both Abby and her husband, Stephen Foster, were outspoken and nationally known abolitionists and suffragists. Their farm in Worcester, MA was a stop on the Underground Railroad. In the 1870s, they refused to pay any taxes to the state until women had the right to vote. Given their fame in the area, Worcester officials were left with a complicated dilemma of how to act.
Maine | Est. 1820
Historical Bites: 
Lobster Salad
It is hard to imagine a summer trip to New England's "Vacationland" today without stopping for a lobster salad, but lobster was not always the expensive dish we think of today. This version of lobster salad uses the same dressing Mrs. Leslie suggests for her chicken salad, though she suggests adding it earlier to the meat. This might suggest that early New Englanders were less interested in the lobster flavor and more in a meat texture similar to the chicken receipt that proceeds it. Whether you're a fan of a Maine or Connecticut-style lobster roll, this receipt is something different to try, bright with vinegar and cayenne pepper, popular Early American flavors.
View Historical Receipt & Modern Translation for Lobster Salad
Original Receipt:
"Take two large boiled lobsters.   Extract all the meat from the shell, and cut it up into very small pieces.  For lobster salad, you must have lettuce instead of celery.  Cut up the lettuce as small as possible.  Make a dressing as for a  chicken -salad, with the  yolks  of nine  hard-boiled eggs,  half a pint of  sweet oil,  half a pint of  vinegar,  a gill of  mustard,  a tea-spoonful of  cayenne,  and a tea-spoonful of  salt.  Mix all well together with a wooden spoon.  A few minutes before it is to be eaten, pour the dressing over the  lobster  and  lettuce,  and mix it very well. "
Seventy-five Receipts for Pastries, Cakes and Sweetmeats by Eliza Leslie (1832)
Modern Translation:
Note: After 200 years of fishing, the average lobster available at the grocery story is not quite as big as the ones Mrs. Leslie used in her receipt. We have scaled the recipe down to suit 1-pound lobsters. 
Ingredients
(2) 1lb. lobsters (or about 1/2 lb. lobster meat)
1/2 a head of green leaf lettuce (about a cup)
3 eggs
1/3 cup olive oil
1/2 cup apple cider vinegar
2 tbsp. + 2 tsp. brown mustard
1 heaping 1/4 tsp. cayenne
1 heaping 1/4 tsp. salt
Instructions
Put live lobsters in the freezer for 20-30 minutes to put them to sleep before boiling.
Hard boil 3 eggs and set aside to cool.
Add about 2" of water to a stockpot with 1 tbsp. salt and bring to a hard boil.
Using tongs, carefully remove lobsters from the freezer and place them into a stockpot. Cover tightly and return to a hard boil.
Once water returns to a hard boil, reduce heat slightly, and steam for about 9 minutes.
Again, using tongs, carefully remove lobsters from pot and place into a bowl of cold water to cool.
While lobsters are cooling, prepare the dressing. Rub egg yolks through a sieve or crush with the back of a wooden spoon. Add olive oil, vinegar, mustard, cayenne, and salt and mix well to combine.
Chop lettuce fine and put into a medium serving bowl.
Remove meat from cooled lobsters and chop fine. Add chopped lobster meat to bowl with lettuce.
Add dressing to taste, about 1/4 cup per lobster*, toss and allow to sit 3-5 minutes before serving.
Enjoy as is or on your favorite roll or bun.
*Looking for something to do with the leftovers? Try using the remaining 1/2 a lettuce, whites from the hardboiled eggs and dressing to start a side salad to go with your lobster.
Whortleberry Pie
While whortleberries might sound rare and exotic, they are just another name for a shrub in the species Vaccinium, similar to blueberries. Blueberries have been part of Maine agriculture for hundreds of years, even by the Village period, with the Indigenous Wa-banaki people considered to be the first cultivators of the wild blueberry.
View Historical Receipt for Whortleberry & Modern Translation for Blueberry Pie
Original Receipt:
"Whortleberries make a very good common pie, where there is a large family of children. Sprinkle a little sugar and sifted cloves into each pie. Baked in the same way, and as long as cherry pies."
American Frugal Housewife by Lydia Maria Child (1833)
Modern Translation:
Ingredients
Pie crust enough for a double-crusted pie
5-6 cups blueberries
3/4 cup sugar
1/4 tsp. cloves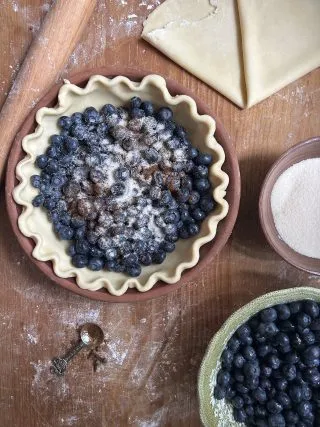 Instructions
Preheat oven to 425°F.
Wash and dry your blueberries, taking care to pick away any lingering stems.
Lay your bottom crust into your pie plate and trim to fit.
Layer blueberries, sugar, and cloves into crust.
Top with top crust, trim and crimp edges. Cut a few slits in top crust to allow venting.
Bake at 425° for 15 minutes, then reduce heat and continue to bake at 350° for 35-45 minutes or until berries are soft and crust is brown.
Let cool completely before slicing. Enjoy!
Featured Building:
Cooper Shop
Built c. 1840, Waldoboro, ME
Originally owned by Maine farmer and artisan James Nash, the Cooper Shop is crowded with tools, casks, kegs, and pails. Coopers, or barrel makers, practiced their trade on a seasonal cycle.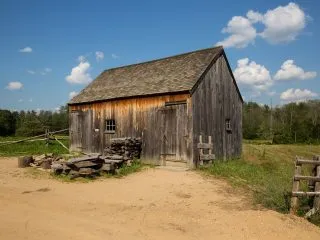 Featured Historical Figure:
Dorothea Dix
Dorothea Dix (1802 – 1887) was born in Hampden, ME, and is now known for activist work on behalf of the mentally ill and indigenous populations as well as for her work as Superintendent of Army Nurses during the American Civil War. Dorothea worked tirelessly to document living conditions in jails, poorhouses, and the few mental hospitals that existed prior to the 1840s and to persuade state governments to do more for the mentally ill. Over the course of several decades, Dorothea played a role in the founding of 32 mental hospitals in the United States.
New Hampshire | Est. 1788
Historical Bites: 
Split Pea, Ham, and Potato Stew
The boiled dinner was the centerpiece of many a rural New England dinner, particularly in summer months. Without refrigeration, most country farmers butchered the bulk of their meat during the cold winter months, salting and smoking it for the remainder of the year. All that salt helped keep the meat from going bad, but made it also made it too salinated to eat. The meat needed to be soaked, or even boiled, to remove the salt. On hot busy summer days, a low-labor meal boiling away in a single kettle fit perfectly, and thus the boiled dinner was born. Be they in their humblest form—a piece of meat and whole veggies, skins and all— or dressed up as a split pea soup, boiled dinners helped shape New Hampshire and the rest of the New England landscape.
View Historical Receipt & Modern Translation for Green Peas Soup
Original Receipt:
"In shelling the peas,  divide the old from the young; put the old ones, with an ounce of butter,  a pint of water,  the outside leaves of a  lettuce or two, two onions,   pepper, and salt, to stew till you can pulp the peas;  and when you have done so, put to the liquor that stewed them some more water,  the hearts and tender stalks of the lettuces, the young peas, a handful of spinach cut small, and salt and pepper to relish properly, and stew till quite soft. If the soup is too thin, or not rich enough, either of these faults may be removed by ounce or two of butter,  mixed with a spoonful of rice or wheat-flour,  and boiled with it half an hour. Before serving, boil some  green mint  shred fine in the soup.  When there is plenty of vegetables, no meat is necessary; but if meat be preferred, a  pig's foot,  or ham-bone, & may be boiled with the old peas,  which is called the stock.  More butter than is mentioned above may be used with advantage, if the soup is required to be very rich.  When peas first come in, or are very young, the stock may be made of the shells washed, and boiled till they will pulp with the above: more thickening will then be wanted."
A New System of Domestic Cookery by Maria Eliza Ketelby Rundell (1807)
Modern Translation:
Ingredients
Ham bone with some meat (about 1lb.)*
1lb. dried peas
2 onions; chopped
1 head green lettuce; four outer leaves removed whole, remaining roughly chopped.
1 packed cup spinach, roughly chopped
1 tbsp fresh mint, chopped fine (about 6-8 leaves)
1 cup fresh or frozen peas
2 tbsp butter
1 tsp salt and more to taste
1 tbsp flour
Pepper to taste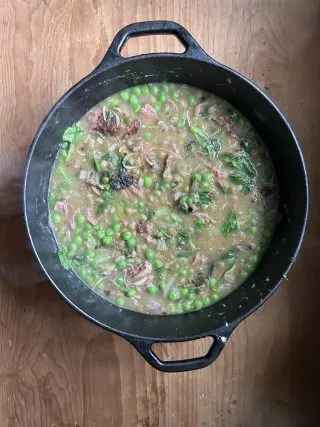 Instructions
Into a Dutch oven, or heavy-bottomed stewpan, with a well-fitting lid, add: onions, ham, dried peas, four lettuce leaves, butter, salt, and about 8 c water.
Turn the heat to high and bring the water to a boil. Reduce heat to medium and let stew, with lid tight, stirring occasionally until peas are soft. About 3 hours**.
Once peas are soft, reduce heat to a simmer and add another cup or two of water if necessary. Stir the soup well to break up the ham into smaller pieces; use a pair of forks to aid in this process if the ham does not naturally flake apart.
To thicken the broth, slowly sprinkle in about 1 tbsp of flour, mixing continuously to avoid clumps. Simmer for about 3-5 minutes to cook out the flour flavor.
Add fresh or frozen peas, mint, spinach, and remaining lettuce. Cook another 3-5 minutes, or until greens are lightly wilted.
Salt and pepper to taste and enjoy!
Rock Cakes
Unlike most of New England, New Hampshire boasts very little in the way of state foods. Instead, it takes pride in its granite, which has been quarried from the state's bedrock since the 19th century. In honor of the Granite State, "rock cakes" seemed a fitting choice. Rock cakes take many forms, from an almond and rosewater macaroon-type cookie to a dense sweet cake with currents. Regardless of which type you try, they are delicious with tea, coffee, and maybe even a brew!
View Historical Receipt & Modern Translation for Rock Cakes
Original Receipt:
"Two pounds of flour well dried, three quarters of a pound of loaf sugar sifted finely, one pound and a half of butter, one pound and a half of currants, one nutmeg, one wine-glass and a half of brandy, the peel of a lemon grated. Break the butter into the flour, and all two or tree spoonfuls of warm milk, then mix them all together. Have the yolks of three eggs beaten well, and then dip the paste, a small piece at a time, into the eggs, and roll them in your hand. Bake them on buttered tins. The currants not to be inserted till the butter is well rubbed into the flour."
The Practical Cook, English and Foreign by J. Bregion and A. Miller (1845)
Modern Translation:
Ingredients
3 1/3 c flour
1/2 c + 1/3 c sugar
1 1/2 c butter
8 -12 oz currants*
1 tsp nutmeg
1/4 c + 2 tbsp brandy
Grated peel of 1 lemon
1 tbsp room temp milk
3 egg yolks
Instructions
Preheat oven to 350°F
Put currents into a small bowl and pour brandy over. Allow to soak while preparing the rest of the dough.**
In a large mixing bowl, use your hands or a pastry cutter, to break up the butter into the flour until evenly distributed.
Add sugar, nutmeg, and lemon peel, and mix.
Add currents in brandy and warm milk, mixing well, until a soft dough is formed.
In a separate bowl, whisk the yolks of three eggs well.
Flour hands to prevent sticking, then roll dough into small balls about the size of a small hen's egg.
Coat balls of dough with egg by either:  a) using a spoon, coat the cakes in egg yoke and then set them on a greased baking sheet or b) placing dough balls on the cookie sheet and then adding an egg wash with a pastry brush. Both work, but the latter uses up less egg and helps prevent the cakes from sticking to the greased baking sheet.
Bake at 375°F for about 15-17 minutes, or until golden and set in the middle.
Enjoy!
*The scaled receipt calls for about 12oz of currants, but our local grocery store only sells them in 8 oz bags, which seems like a perfect amount.
**The longer you can soak the currants the better. Consider even starting this step the night before. Forgot to soak your currants altogether? That is okay too, the fruit will just be a bit chewier in the finished cakes.
Featured Building:
Sawmill
Reproduction based on the Bichols-Colby Sawmill of Bow, NH
This rare water-powered sawmill—erected on the millpond site that David Wight, Jr. first created in the 1790s—is used to cut lumber for Old Sturbridge Village and other historic sites. The Sawmill is based on what had been one of the oldest surviving sawmills in the area: the Nichols-Colby Sawmill of Bow, New Hampshire, which was destroyed in a 1938 hurricane. Watch the video below to learn more about how the Sawmill operates.
Featured Historical Figure:
Wentworth Cheswell
Wentworth Cheswell (1746-1817) was an auditor, Justice of the Peace, teacher, and American Revolution soldier born in Newmarket, NH. In 1768, he was elected as town constable and continued to serve in local government in varying capacities throughout the rest of his life. He is generally considered the first Black (or biracial) man elected to public office in the United States. He and his wife, Mary Davis, had thirteen children.
Vermont | Est. 1791
Historical Bites: 
Apple Pork Pie
There are certain combinations that feel timeless: poultry with cranberry sauce, beef with horseradish, and pork with applesauce, and there is no mistake as to why. Other than just being delicious together, these pairings were once thought to help make foods healthier by serving them with the correct sauce, in order to help maintain a proper humoral balance. This savory take on Vermont's state pie, the apple, pairs hot and dry pork with cold and wet apples, creating a perfect pie. For best enjoyment, try it with a slice of Vermont cheddar cheese.
View Historical Receipt & Modern Translation for Apple Pork Pie
Original Receipt:
"Make your crust in the usual manner, spread it over a large deep plate, cut some slices of fat pork very thin, also some slices of apple; place a layer of apples, and then of pork, with a very little allspice, and pepper, sugar, between–three or four layers of each, with crust over the top. Bake one hour."
The New England Economical Housekeeper, and Family Receipt Book by Esther Allen Howard (1845)
Modern Translation:
Ingredients
Pie crust enough for a double-crusted pie
2-3 lbs. pork (pork with some fat on it works best)
6-8 tart apples (Granny Smiths or Cortlands work well)
½ c brown sugar
1-2 tsp. allspice
1 tsp. pepper
Instructions
Preheat your oven to 425°F.
In a small bowl combine brown sugar, allspice, and pepper.
Cut pork into small thin slices, the thinner the better, and set aside.
Peel, core and cut apples into thin slices and set aside.
Lay your bottom crust into your pie plate and trim to fit.
Place a layer of apples in the bottom of your pie plate; sprinkle over a small amount of sugar and spice mixture.
Add a layer of pork; sprinkle over a small amount of sugar and spice mixture.
Repeat until pie is heaped high!
Top with top crust, trim and crimp edges. Cut a few slits in top crust to allow venting.
Bake at 425° for 15 minutes, then reduce heat and continue to bake at 350° for 35-45 minutes or until apples are soft and crust is brown.
Enjoy!
Bread Pudding
Bread pudding is a ubiquitous early New England favorite, with nearly every advice book offering at least one, if not multiple receipts for this sweet treat. Bread puddings were commonly baked in pudding pans—what we might call bundt pans today. In the 1830s, bread puddings were just as commonly boiled, like the plum pudding Mrs. Cratchit makes for her family in Dickens' holiday classic, A Christmas Carol. Using maple sugar, or even more commonly today, maple syrup, in lieu of white or brown sugar, gives this classic a bit of Vermont flavor.
View Historical Receipt & Modern Translation for Bread Pudding
Original Receipt:
"Cut one loaf of  bread  in fine pieces, sprinkle with a little  salt, boil two quarts of  milk and pour over; cover close until well soaked; mash it well; add six  eggs, one pound of  butter,  some  cinnamon or nutmeg;  sweeten it; bake it, in a quick oven, one hour and a half."
The New England Economical Housekeeper, and Family Receipt Book by Esther Allen Howard (1845)
Modern Translation:
Ingredients
1/2 loaf of bread (about 1/2 lb)
1/2 tsp. salt
4 cups milk
3 eggs
1/2 lb. (2 sticks) butter, room temperature
1 tsp. Cinnamon
1/2 tsp. Nutmeg
1 cup sugar or 3/4 cup maple syrup (for a more Vermont taste)
Instructions
Note: This receipt is half the quantity of the original to fill one bundt pan.
Preheat oven to 350°F
In a medium saucepan, bring the milk to a boil.
While milk is heating, cut or tear half a loaf of bread into small pieces.
Put the bread into a heatproof bowl. Sprinkle over salt and then carefully pour in the milk. Cover with a lid or a plate and let stand until the bread has soaked in most of the milk. About 20 minutes.
Cut butter into small pieces and mix into milk and bread mixture until melted.
In a separate bowl, whisk eggs well.
Fold eggs into the bread mixture.
Add cinnamon, nutmeg, and sugar or syrup.
Pour mixture into a greased pudding pan (or a modern-day bundt pan) and bake for 90 minutes.
Serve warm, and enjoy!
Featured Building:
Asa Knight Store
Built c. 1826, Dummerston, VT
The Asa Knight store represents a crucial link between the farming community and the world at large. The store, originally built as a modest one-story building, had by 1838 grown into an imposing two-and-a-half-story emporium that stocked an expanding variety of products. New England stores carried items from around the region and around the world.
Featured Historical Figure:
Thaddeus Stevens
Thaddeus Stevens (1792 – 1868) was born in rural Vermont. As a young adult, he became a lawyer in Gettysburg and was later elected to the Pennsylvania House of Representatives. He was a staunch abolitionist, advocating not only for the immediate eradication of slavery but also for the equal rights of freed Black people during Reconstruction. His views were radical for the time, even among other abolitionists. He was also an active proponent of universal education and anti-masonry.
Rhode Island | Est. 1790
Historical Bites: 
Fried Cod Cake
Enjoyed fresh or salted for long-term storage, seafood has long been a part of Rhode Island's culinary history. For those living near the coast, fresh fish may have been a staple meat, particularly during the colder weather months when the fish was less likely to spoil. Nearly ubiquitously served with potatoes, leftover fish from dinner could be set aside after the meal, to be minced up fine with remaining spuds, bound with an egg, and fried as cakes for breakfast the next morning. For a truly New England experience, try them with some stewed or baked beans and pie.
View Historical Receipt & Modern Translation for Cod Cakes
Original Receipt:
"There is no way of preparing salt fish for breakfast, so nice as to roll it up in little balls, after it is mixed with mashed potatoes; dip it into an egg, and fry it brown."
American Frugal Housewife by Lydia Maria Child (1833)
Modern Translation:
Ingredients
1 lb cod (cooked)*
2 large potatoes (cooked)**
1 egg
Salt and pepper
Butter (room temperature)
*You can use almost any leftover fish for this. Even deep-fried fish, just pull away the breading first. Starting with fresh fish? Wrap your cod up in tinfoil with a little salt and pepper and cook in a 400° oven for about 10-12 minutes per pound. Allow to cool to room temperature before using for cod cakes.
**Similarly, you can use almost any cooked potato, baked, boiled, or mashed, for this receipt.
Instructions
Chop or tear the cod up into small pieces.
Add cod to a large bowl with potatoes and mash until smooth. You can use a potato masher, back of a wooden spoon, or even your hands for this.
If desired, add a bit of butter and additional salt and pepper to taste. For testing this receipt, we used well-seasoned fish and whole-boiled potatoes. We added about 2 tablespoons of butter, 1/2 teaspoon of salt, and a bit a fresh black pepper.
Form the mixture into small dense cakes with your hands.
Heat about a tablespoon of butter in a skillet over medium heat. When melted, carefully add cakes and fry until golden brown. About 2-3 minutes per side.
Enjoy by themselves or with another New England favorite, like baked or stewed beans.
Apple Pie
Apple pie is now considered a quintessential American food, but apples are not! Brought to New England by cider-drinking European settlers, apple trees flourished across Rhode Island and the surrounding states. By the 1830's, there were more varieties of apples in New England than there are today. Not all apples are created equal, though; some are good for keeping, some for baking, and some best for cider. The Rhode Island Greening, a crisp and tart apple similar to a Granny Smith, was developed in around 1650 in Middletown, Rhode Island, and is now considered the state fruit. Ask for it at your local farmers' market or family orchard the next time you think to make an apple pie.
View Historical Receipt & Modern Translation for Apple Pie
Original Receipt:
"When you make apple pies, stew your apples very little indeed; just strike them through, to make them tender. Some people do not stew them at all, but cut them up in very thin slices, and lay them in the crust. Pies made in this way may retain more of the spirit of the apple; but I do not think the seasoning mixes in as well. Put in sugar to your taste; it is impossible to make a precise rule, because apples vary so much in acidity. A very little salt, and a small piece of butter in each pie, makes them richer. Cloves and cinnamon are both suitable spice. Lemon-brandy and rose-water are both excellent. A wine-glass full of each is sufficient for three or four pies. If your apples lack spirit, grate in a whole lemon."
American Frugal Housewife by Lydia Maria Child (1832)
Modern Translation:
Ingredients
6 cups apples, fresh or dried, or 2 cups applesauce
1/2 cup brown sugar
1/2 teaspoon cloves or
cinnamon
Piecrust for double-crust pie
1 tablespoon butter
1/2 teaspoon salt, optional
1 tablespoon lemon peel, if apples are sweet
1 tablespoon lemon brandy or rosewater, optional
Instructions
To prepare apples, follow one of these three methods:

Peel and slice apples, toss with sugar and spice until all are coated.
Peel and core whole apples, slice into rings. Put into saucepan with 1 inch of water on the bottom, sugar, and spices. Stew for 10 minutes.
 Put dried apples in a bowl and cover with water. They will swell up in a couple of hours in a warm place. Put apples, a small amount of the water in which they soaked, sugar, and spice into a saucepan and cook for 10 minutes.

 Prepare piecrust.
Line a 9-inch plate with pastry.
Arrange prepared apples in pie plate. Add juice if stewed. Dot with butter. Add salt, lemon peel, and brandy or rosewater, if desired: Cover with top crust, make slits to let steam escape.
Bake in 350°F oven for 1 hour if stewed apples are used or 11/4 hours for uncooked fruit.
Explore a 1790s Rhode Island Farm at our Partner Museum!
Set on 48 acres of coastal farmland in Bristol, Rhode Island, Coggeshall Farm Museum recreates the daily experience of tenant farmers on a salt marsh farm in the late 18th century, complete with live interpretation, special events, educational programing, historical structures, heirloom plants, and heritage-breed animals.
Coggeshall Farm Museum is celebrating their 50th anniversary this year.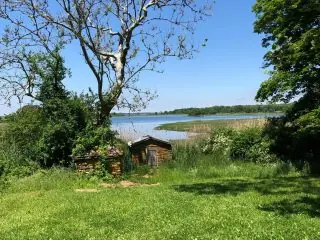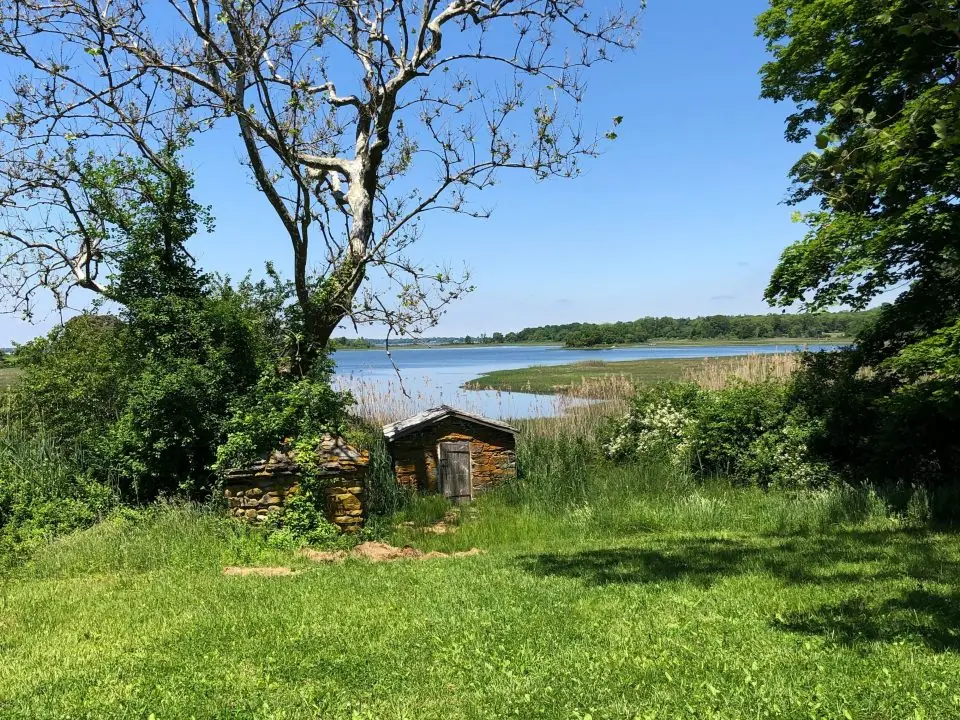 Featured Historical Figure:
Moses Brown
Moses Brown (1738 – 1836) was a famous industrialist and abolitionist born in Providence, Rhode Island. Inspired by the innovation of water-powered textile mills in Britain, Brown hired Samuel Slater to build a textile mill in Pawtucket. The resulting factory is generally considered the first water-powered spinning mill in the United States and the start of the American Industrial Revolution. After converting to the Quaker faith in the early 1770s, he became a staunch opponent of slavery, in contrast to his brother, who was one of the state's leading slave traders at the time.
Connecticut | Est. 1788
Historical Bites: 
Grilled Meat Cakes
Connecticut takes pride in its burgers, particularly the steamed variety, but did you know people have been eating burger patties for hundreds of years? One of the earlier references to a chopped meat patty is this one from the Boston Cooking School, published in 1844. Whether you serve them with butter, Maitre d' Hotel sauce—a butter, lemon, and parsley sauce— or on a bun, these little burgers are sure to please.
View Historical Receipt & Modern Translation for Grilled Meat Cakes
Original Receipt:
"Chop lean, raw beef quite fine.  Season with salt, pepper, and a little chopped onion, or onion juice.  Make it into small flat cakes, and broil on a well-greased gridiron or on a hot frying pan. Serve very hot with butter or Maitre de' Hotel sauce."
Boston Cooking School Cook Book by Mrs. D.A. Lincoln (Mary Bailey) (1844)
Modern Translation:
Ingredients
1 lb lean beef
1/2 medium onion
1 1/2 tsp salt
1 tsp pepper
Butter
Instructions
Chop beef fine. If you do not have a chopping knife or grinder or do not want to chop your own meat, start with ground beef.
Dice onion fine and mix or chop it into beef.*
Mix in salt & pepper, more or less to taste..
Preheat a skillet over medium-high heat.
Form 1/4 cup scoops of beef mixture into small, dense cakes with your hands.
Melt a small amount of butter in a skillet and fry for about 2 minutes per side.
Serve hot with more butter melted over the top.
Makes about 14 small patties.
*If you like the onion flavor but not the texture try adding onion "juice", made by chopping onion fine in a food processor or adding onion powder instead.
Tunbridge Cakes
While it would be over 50 years before Cornelia Campbell Bedford's whimsically named Snickerdoodles become popular, New Englanders have long enjoyed cinnamon-sugar-flavored cookies. This versatile receipt makes a dense little cake or cookie, perfect for enjoying alongside tea, coffee, or hot chocolate. This receipt, like so many early American receipts, leaves the spicing up to the baker. One could keep the cakes simple with just cinnamon, sugar, and a bit of rosewater—the 1830s equivalent of cooking vanilla—or they could be heavily seasoned with other spices like nutmeg, allspice, ginger, cloves, mace or even with caraway seeds sprinkled over the top.
View Historical Receipt & Modern Translation for Tunbridge Cakes
Original Receipt:
"Rub six ounces of butter into a quart of flour;  then mix six ounces of sugar into three well beaten eggs,  and make the flour into paste, adding a little rose-water and what spices you like. Roll the paste very thin and cut with the top of a glass, prick the cakes with a fork, and cover with caraways, or wash with the white of an egg and dust a little white sugar over. Bake on tins in a moderate oven."
The Good Housekeeper by Sarah Josepha Hale (1839)
Modern Translation:
Ingredients
6 oz (1 1/2 sticks) butter
4 cups flour
6 oz (3/4 cup) sugar
3 eggs
1 tsp cinnamon
1 tsp rosewater
1 egg white (optional)
caraway (optional)
cloves, ginger, allspice, mace, and nutmeg (optional)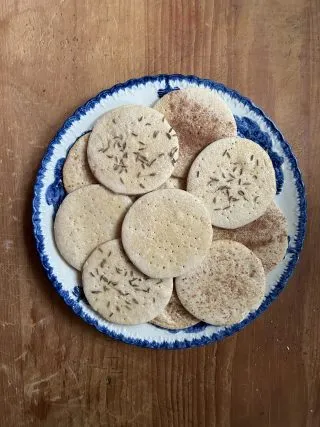 Instructions
Preheat oven to 350°F
Using your hands or a pasty cutter, break up the butter into the flour until evenly distributed. Add cinnamon and other spices, if desired. Mix to combine.
In a separate bowl or stand mixture break 3 eggs. Beat eggs thoroughly until fluffy, light in color, and almost doubled in size.
Add rosewater and sugar, 1/4 cup at a time, to eggs, mixing well between each 1/4 cup. The mixture should still be light and fluffy.
Gradually add flour mixture, mixing well the whole time. This should produce a light and soft cookie dough.
On a lightly floured surface, roll dough out about 1/4' thick and cut into rounds using a cookie cutter or the top of a glass. To help prevent the cutter or glass from sticking to the cooking, turn lip of cutter or glass in a small pile of flour between cookies.
Transfer cakes to a light greased cookie sheet. Poke with a fork and wash with egg whites. Sprinkle with sugar and caraway if desired.
Featured Building:
Fitch House
Built c. 1737, Willimantic, CT
This symmetrical Cape-style home, which has a gambrel roof and a kitchen ell off the back of the building, had several additions through about 1820. With its white picket fence, rose trellis at the door, and a colorful flower garden designed for the children in the side yard, the Fitch House suggests the prosperity of a center village tradesman.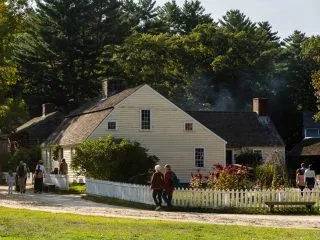 Featured Historical Figure:
Prudence Crandall
Prudence Crandall (1803 – 1890) was a Quaker abolitionist and school teacher. In 1831, she opened a private girls' school in Canterbury, CT. The following year, she admitted Sarah Harris, a young African American woman. This prompted controversy and outrage, and many white parents withdrew their children from the school. In 1833, Prudence made it a school for African American girls. Prudence continued to keep school even though she faced threats and acts of violence. In May 1833, a law was passed by the Canterbury legislature that banned teaching African American students from a state other than Connecticut. Prudence was arrested and eventually convicted (though a higher court later overturned the conviction). After a mob rampaged the school in 1834, Prudence closed the school out of fear for her pupils' safety. The house that held the school was later turned into the Prudence Crandall Museum.