Dining
Bullard Tavern Cafeteria
Open During Museum Hours
Specializing in comfort food, one bite of the Bullard Tavern Cafeteria's chicken pot pie or mac & cheese will make you feel like a part of the Old Sturbridge Village family. Located on the ground floor of the Bullard Tavern, the cafeteria also offers other hot lunch options such as soup and chicken tenders, as well as healthy salads and sandwiches.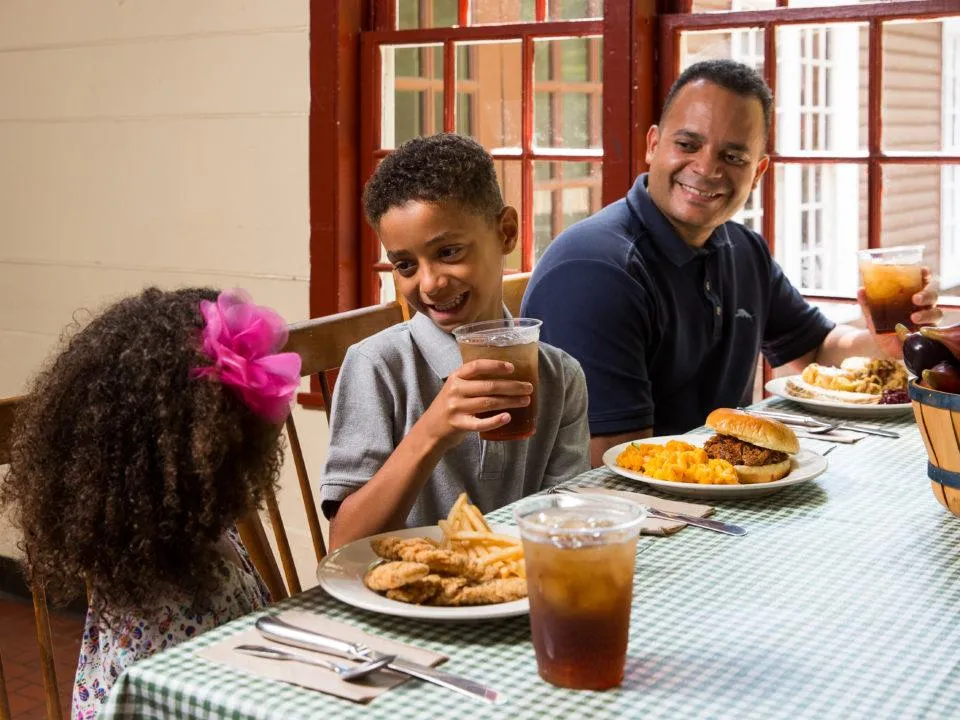 Miner Grant Store
Open During Museum Hours
While exploring the Village Common, stop by the Miner Grant Store and seach through glass jars for your favorite penny candy, perk up with a cup of coffee, and grab a container of jam to bring home a taste of Old Sturbridge Village. Located in the Village next to the Common, this is the perfect place to grab a quick snack, souvenir, or beverage.
The Oliver Wight Tavern
Located just outside the Village entrance (admission not required), the Oliver Wight Tavern menu varies seasonally.
The Village Café
Open During Museum Hours | Currently open Wednesday – Sunday
All about convenience, the Café at the Oliver Wight Tavern is the perfect place to eat on the go. On your way into the Village, enjoy delicious soups, salads, and fresh sandwiches or grab a drink on your way out to quench your thirst after a busy day in the 19th century.
The Tap Room
Open Seasonally (See Below)
The Tap room, serving Tavern favorites such as soups, salads, sandwiches & more (including some period-inspired receipts (recipes)), is open for lunch seasonally.
The 2018 Tap Room schedule is as follows:
During April school vacation week, April 14-22, the Tap Room will be open Wednesday through Saturday between 11:30 a.m. and 3:00 p.m. From April 23 through Memorial Day Weekend, the Tap Room will then be open on Friday's & Saturday's. After that, we will be open Wednesday's through Saturday's for the summer!
Sunday Brunch at the Oliver Wight Tavern
Sundays 10:00 am – 1:30 pm
Savor a Sunday in the company of friends, family, and good food at Old Sturbridge Village's Sunday Brunch at the Oliver Wight Tavern. Our brunch buffet includes made-to-order omelets, seasonal vegetables, signature salads, and chef specials such as roast turkey, baked salmon, and carved ham. Even the little ones can enjoy offerings catered to their tastes such as smiley fries, mac & cheese, and chicken tenders. After 11:00 am, guests can also relax and enjoy their brunch with a handcrafted Mimosa, Bloody Mary, or other cocktails, wines, and beers.
Adults: $21.95
Seniors (ages 65+): $19.95
Children 10 & Under: $6.95
FREE for Kids under 3
Reservations recommended, call 508-347-0362.
*Prices and menu change for special events and holiday brunches
Holiday Dining
Mother's Day
Sunday, May 13. Treat mom to a scrumptious brunch at the Oliver Wight Tavern! Learn more here.
Village Scoop Shop
Open Seasonally (see below)
Nothing is better than having an ice cream on a hot day at Old Sturbridge Village. Located within the Village in a charming cottage with red gingham curtains, the  Village Scoop Shop is sure to satisfy your ice cream cravings. An outdoor seating area provides a comfortable place to quench your thirst with a refreshing cold beverage, or gain some extra energy by snacking on one (or two!) of our famously delicious cookies. Refresh and recharge yourself for more 1830's fun by stopping by the Village Scoop Shop.
Now through Memorial Day Weekend, the Scoop Shop is open Saturdays and Sunday. After that, the Scoop Shop will be open Wednesday – Sunday.
Dining and Overnight Experiences
Special programs and events scheduled throughout the year
Learn about special hearth cooking and overnight experiences like Dinner in a Country Village and Boarding with the Bixbys here.
Host an Event at Old Sturbridge Village
Old Sturbridge Village is a convenient and versatile location for weddings, social and corporate events. The property features over 200 acres, 50 historic buildings as well as several venues for your next event, including the Oliver Wight Tavern, Bullard Tavern, a full-service conference center, and a 300-seat theater. Learn more about hosting an event at the Village here.