Fall 2022 at the Village
Enjoy the colorful road trip this autumn to New England's largest living history museum, Old Sturbridge Village. As the leaves turn shades of red, orange, and yellow and the temperatures cool the Village offers new and repeat visitors a memorable outdoor excursion. For the nature lovers, history enthusiasts, music fans, crafters, families, and Village members there is something for everyone this fall!
Through October, The Village is open Wednesday through Sunday. Plan your visit today.
The Village also has a variety of special events and programs this fall including: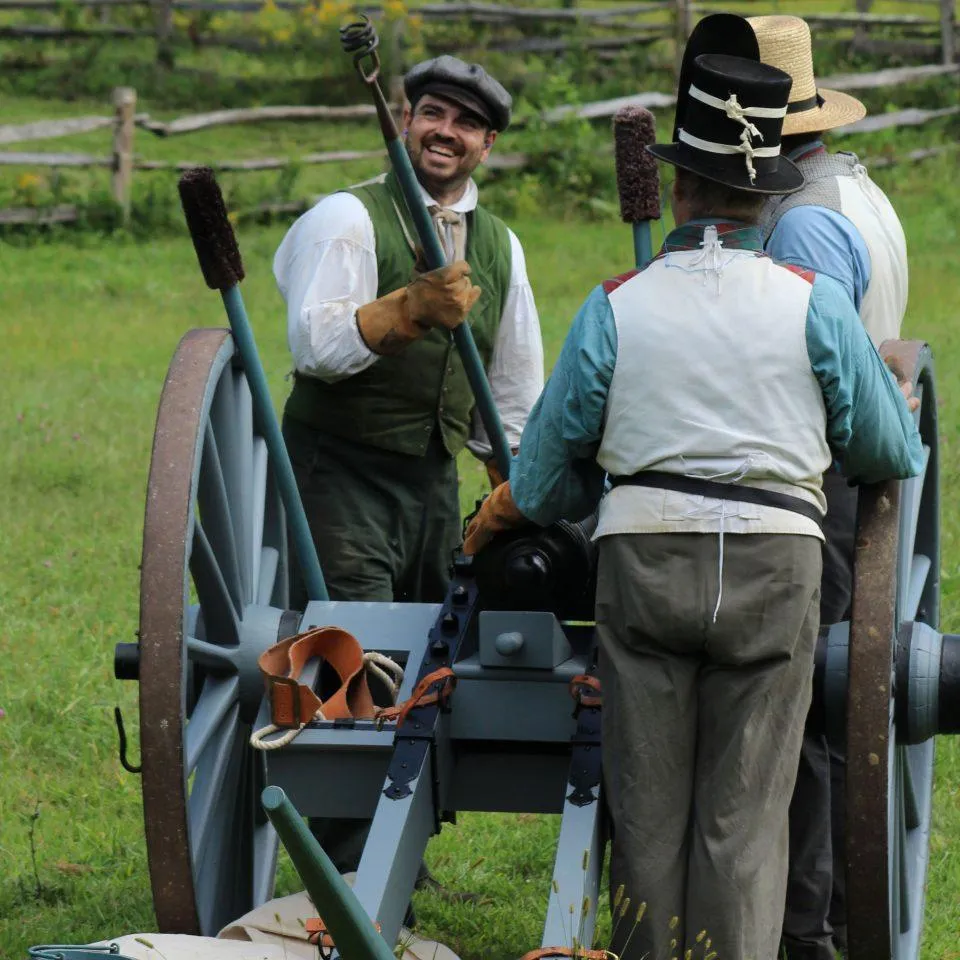 Muster Day
September 3rd
Come and join us for our fall muster day and cheer on your favorite militia company! Talk to members of two uniformed volunteer militia companies. Listen to early 19th-century martial music. Watch musket and cannon firing demonstrations and MORE!
PLUS: Up to three kids are admitted for FREE per adult paying full price! Learn more here.
Evening at the Village feat. Ben and Elizabeth Anderson
September 10th
Elizabeth and Ben Anderson, a Boston-based Scottish fiddle and cello duo blend Scottish tunes with lively rhythms and innovative harmonies. The pair creates a sound rooted in tradition, inspired by the contemporary, and completely original. On stage, they captivate audiences with their ability to effortlessly communicate musical nuances as only siblings can. They are a favorite among visitors to the Village! Learn more and get tickets here.
Friends' Day (Members Only)
September 17th
All members of Old Sturbridge Village and Coggeshall Farm Museum are invited to join us for Friends' Day 2022. There will be special tours, workshops such as Harvesting Honey at our Bee Exhibit, demonstrations. and more. To learn more about becoming a member of Old Sturbridge Village and the benefits, click here. To learn more about Friends' Day 2022, click here.
Folk Music and Celebration of Cider
September 24th
Come enjoy a day of folk music while we celebrate the cider season! Learn about the history of cider. Hear live music from multiple bands.
More information coming soon!
Phantoms by Firelight
Friday – Sunday Beginning October 7th
As the sun sets at Old Sturbridge Village this October, come see Phantoms by Firelight. Explore the myths and folklore of Halloween at the museum. Evening guests will see the Village in a darker, more eerie light, as the night progresses and a mysterious troupe of traveling performers including gravity-defying acrobats, creepy conjurers, and fate-tempting fire jugglers appear from the shadows of firelight.
Sign up here to be alerted when tickets go on sale!
Celebrating the Harvest
Weekends in October
Every weekend in October, our farmers and households will be busy with the tasks of the season, like picking apples, bringing the harvest, preparing the fields for the winter, and preserving the gardens' bounty for the cold weather.  Learn about cider making, food preservation, historical agriculture practices, and more.
More information coming soon!