Exhibitions
In addition to the "living history" exhibits located in the historic buildings and its heirloom gardens, Old Sturbridge Village also has static exhibitions – both permanent and changing – which feature historic artifacts from the collections.
For the Purpose of Illumination (Countryside Gallery)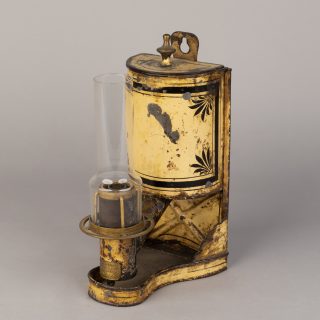 For the Purpose of Illumination explores the different ways New Englanders lit their homes in the nineteenth century. From the pervasiveness of candles to new innovations in lighting technology, this exhibit outlines the different lighting options available to consumers and weighs the pros and cons of each choice. Featuring a variety of lighting and other artifacts from the Village's collection, this exhibition also asks visitors to consider what impact artificial lighting has on their lives. Those visitors who loved our former lighting exhibition on Gallery Row will certainly appreciate this new installation.
Needle & Thread: The Art and Skill of Clothing an Early 19th-Century Family
Old Sturbridge Village's new exhibit, Needle and Thread: The Art and Skill of Clothing an Early 19th Century Family highlights the responsibilities held by rural New England housewives in constructing new garments, patching, mending, and darning worn items, and repurposing old items into new wardrobes – ensuring that their families were clothed in good order for many occasions. It features over a dozen garments and accessories, along with other textile and clothing objects from the Old Sturbridge Village Museum Collections. Clothing featured in the exhibit will change periodically for the different seasons, showcasing more of the collection and helping to preserve those items on display.
"New England on Parade" | September 2021 - July 2023
Inspired by the Village's 75th-anniversary celebration theme and Jane Nylander's research and forthcoming publication, the New England on Parade exhibition examines the history of parades and parade traditions in New England from 1776 to 1940. The exhibition is housed in multiple buildings throughout the Old Sturbridge Village campus and highlights the ways in which parades brought communities together for public celebrations and commemorations, while also addressing how parades were used to generate support for social and political causes.
The gallery in the Visitor Center reflects the typical processional order of a 19th-century New England parade: VIPs, militia units, brass units, firemen, tradesmen, children, and women. After entering through a triumphal arch, visitors will find objects such as the 1845 pump engine "VETO," watercolors by James Head, outfits worn by women and children in parades, and pictures of past parades at the Village. Two Maine Charitable Mechanic Association banners from 1841, on loan from the Maine Historical Society, will also be on display. This space also includes information about the difficult history of Antiques and Horribles parades in New England.
In the existing Armed & Equipped gallery on Gallery row, guests will find a series of supplementary panels that will explore themes related to militia involvement in parades and celebrations.
New England on Parade will be on display through July 2023.
J. Cheney Wells Clock Gallery
The J. Cheney Wells Clock Gallery was opened in 1982 to house the Village's extensive collection of early New England timepieces. J. Cheney Wells, one of the founders of Old Sturbridge Village, was an avid clock collector and donated many of the objects currently on display. The exhibit contains dozens of clocks including many tall case clocks – several of which are kept running and can be heard chiming throughout the day.
Armed and Equipped: Firearms and the Militia in New England: 1790-1840
September 2017 marked the opening of a newly redesigned firearms and militia exhibit, after months of planning and collaboration by a cross-disciplinary team of Village historians and curators. Armed and Equipped: Firearms and the Militia in New England, 1790-1840 includes many objects in that have either never been on public display or have not been on view in many years.
The citizen militia was an important part of civic life in the colonial period and in the early 19th-century New England. All able-bodied men from 18 to 45 were required to serve in their town's militia. They had to provide their own weapons and equipment and had to attend at least one training day per year. The new exhibit will bring more detail to this story and have four distinct themes within the context of New England: citizen militia, firearms technology, firearms manufacturing, and sport shooting.
The Glasshouse Gallery
The Glasshouse Gallery explores the history, manufacture, and use of glass in 19th century New England. Thematic cases illustrate the development of style over time, production methods, decoration, and scholarship. Objects on display include tableware, mirrors, spectacles, flasks, archaeological materials, as well as glassmaking tools and implements. The building, built in 1941, is a replica of the original American Optical Company spectacle shop in Southbridge, Massachusetts, where George Washington Wells, father of the founders of Old Sturbridge Village, began manufacturing eyeglasses in the late 1800s.
David Wight Community Gallery
The David Wight Community Gallery features exhibitions created by Old Sturbridge Academy students as well as local university students. Stop in to see how items from the Old Sturbridge Village collections have been used to enhance these displays. The exhibitions change regularly.
Beekeeping Exhibit
Located by the Herb Garden, before you exit the Village, this exhibit highlights the historical story of beekeeping and how it relates to modern practices and concerns of keeping bees. In the warmer months, there is an active colony of bees at work for you to watch and learn more about them. Come to the Village and try to identify the queen, workers, and drones in the living hive.