Wool Days
Times: The Village is open from 9:30 am to 5:00 pm
Cost: Included with standard daytime admission or Village membership. Standard daytime admission is $30 for adults, $28 for seniors (55+), $15 for youth (4-17), $15 for college students (with a valid college ID), and free for children 3 and under.
Get Tickets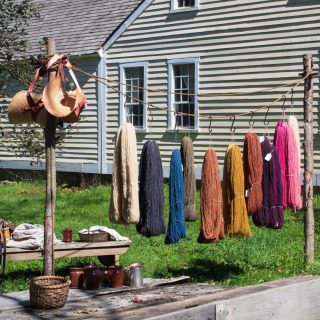 Discover how New England farmers used the wool from their sheep in the 1830s at Old Sturbridge Village's annual Wool Days. Farmers will give the sheep their annual "haircut" while costumed historians demonstrate the entire wool textile process, from scouring and carding the wool to dyeing, spinning, and then knitting the dyed yarn.
Please note that some activities, such as shearing, scouring, and dyeing, are weather dependent.
Highlights Include:
Learn about the natural dyes used to produce an amazing array of colors in the 19th century
See a demonstration of spinning woolen yarn on the great wheel
Watch our farmers shear the sheep
Learn about some of the products early New Englanders made with wool
Watch a host of daily demonstrations including, hearth cooking, printing, blacksmithing, and shoe-making
Find sheep plushies, skeins of yarn, learn-to-knit kits, and more in the shops at the Village
Did you Know?
Each of our sheep produces a fleece of about 5-7 pounds annually, which after washing and processing amounts to about 2-4 pounds of wool.
With the high demand for quality wool by the textile industry and an embargo on imported wool, there was a high need for a local source of wool in early 19th-century New England. In 1840, there were about 4 million sheep in New England!
Early New Englanders used a wide variety of natural dyestuffs to color their wool.  Examples include logwood for mulberry, navy, or grey; madder root for reds and oranges; and cochineal insects for deep rose or bright red; and sage leaves for green.