Woodworking Weekend
October 9th - 11th, 2021
Times: The Village is open 9:30 am to 5:00 pm
Cost: Included with standard daytime admission or Village membership. Standard daytime admission is $28 for adults, $14 for youth (4-17), and $26 for seniors (55+).
Get Tickets
Celebrate the grand opening of our new Cabinetmaking Shop on the Common and learn about historical woodworking through presentations, demonstrations, and more.
Sturbridge and the surrounding region were home to some of the foremost rural cabinetmakers of the early 19th century, including Nathan Lumbard and Oliver Wight. These craftspeople, as well as others like them, were integral to 19th-century rural New England communities. In 2017, Village staff and Trustees began working on a plan to create a permanent home for cabinetmaking at the Village. The grand opening of the new shop on Saturday, October 9, 2021, is the culmination of countless hours of work and a highlight of Old Sturbridge Village's 75th-anniversary celebrations.
Tickets
Click here to purchase tickets for Saturday, October 9th
Click here to purchase tickets for Sunday, October 10th
Click here to purchase tickets for Monday, October 11th
As always, members get in for free! Learn more about membership here.
---
As a site that welcomes visitors of all ages—including many children—and encourages conversation with our costumed interpreters, we ask all visitors to follow our current mask policy:
Masks are required in all indoor spaces.
Masks are optional outdoors. Please consider putting on a mask when you are close to staff or other visitors.
Get tickets and see current COVID-19 related policies here.
Highlights of Woodworking Weekend will include: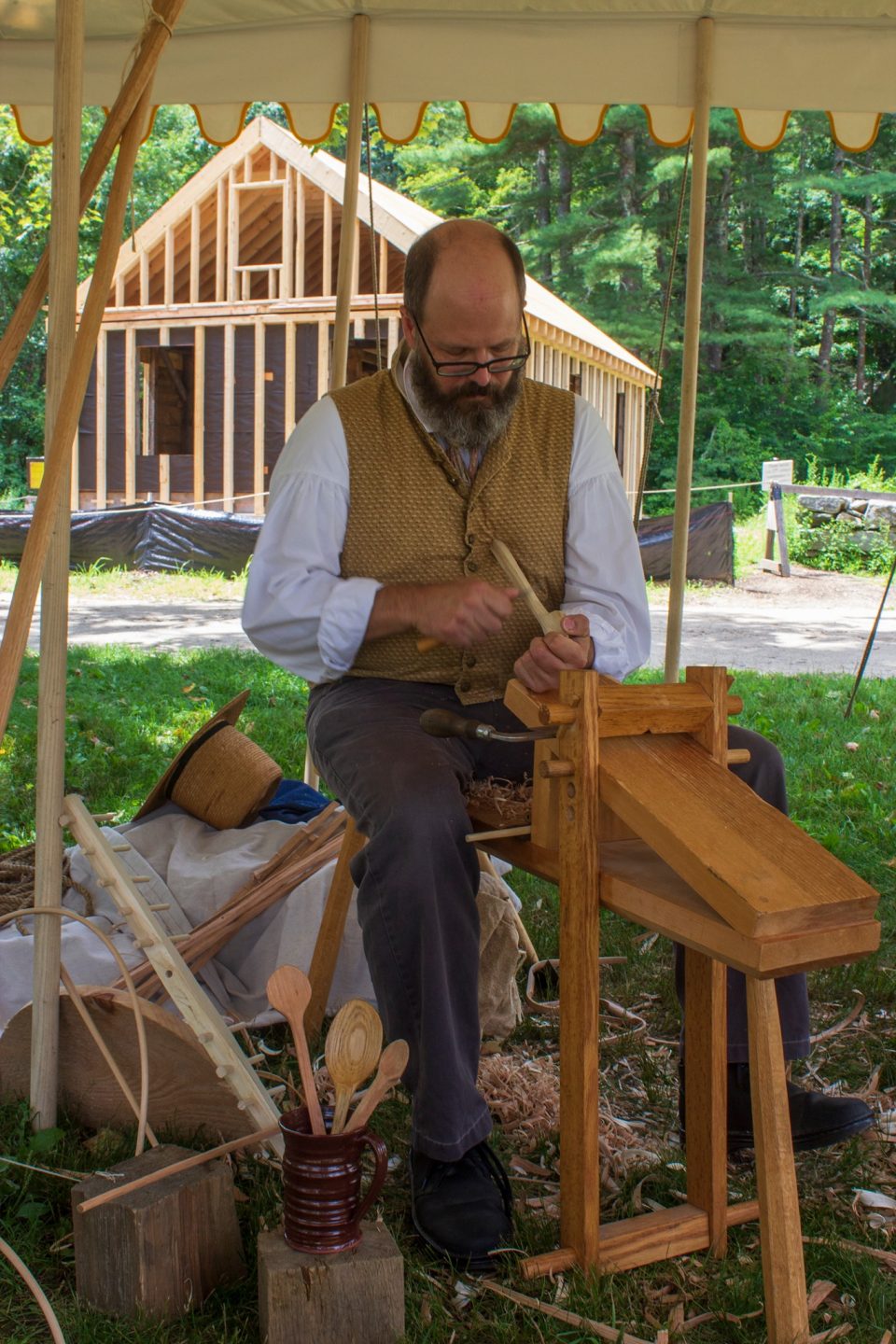 (Subject to change)
Panel discussion of a newly acquired sideboard in the Old Sturbridge Village Museum Collection, featuring Brock Jobe (OSV Trustee and Professor Emeritus of American Decorative Arts at the Winterthur Museum, Garden and Library), Clark Pearce (Advisor in American Arts to Collectors and Institutions) and Chris Nassise (OSV Master Cabinetmaker) (Saturday only; 10:00 am)
Opening Ceremony (Saturday only; 11:00 am)
Presentation by Philip Zea (President Emeritus, Historic Deerfield): A Uniformity in Our Trade: Cabinetwork and the Workmanship of Economics, 1790-1840 (Saturday only; 2:00 pm)
William Morrison of Montpelier VT will be demonstrating how he makes Windsor chairs using hand tools. Visit his demonstration to learn more about this remarkable family of comfortable heirloom chairs.
In the new cabinetmaking shop,  cabinetmakers will be discussing the tools and techniques used in period furniture construction, including turning demonstrations on a treadle lathe, preparing stock with hand tools, and Federal-style table construction. The first project in the new shop will be a mahogany Pembroke table with tapered legs, a serpentine top, regional decorative inlay, and a dovetailed drawer.
Tree walks focusing on historical forestry
Sawmill demonstration (weather and water-level permitting)
Richard Colton, a gunsmith of fifty years will be final-shaping the wooden stock, apple in this case, of a sporting flintlock fowling piece in the local Worcester County style.
Ladder-back chair repair/splint seat weaving (Sunday only)
Woodblock printing demonstrations
Whittling demonstrations
Architecture tours of the common (Saturday and Monday; see mapguide for times)
And so much more!
About the new Cabinetmaking Shop:
The Cabinetmaking Shop is a hybrid building, built using both historic and modern building methods in the construction of the Shop. The shop is patterned after period structures operated by early 19th-century New England craftsmen. Many elements of the final Cabinetmaking Shop will be created by craftsmen and interpretive staff working in the Village, including reproduction period tools, doors, shelves, and the box stove. The large timbers for the construction of the shop were even cut by the Village Sawmill.
For a variety of reasons, including modern building codes, providing ADA access, safety, visitor comfort, and making the craft demonstrations more visible to the public, this building was constructed using some modern tools, materials, and techniques as well.
A scale model of the shop, built by Old Sturbridge Village Trustee Bob Roemer, is pictured below. See more pictures from the building process here.