Summer Discovery Adventures
Discovery Adventures happen in July and August; See below for details
Times: 9 AM – 3 PM
Cost: Member--$325; Non-member--$350 (Unless otherwise noted)
Sorry! 2021 Discovery Adventures are SOLD OUT!
Discovery Adventures are immersive day programs that give kids a chance to step back in time and experience life in the 1830s at Old Sturbridge Village. Every session offers kids the opportunity to explore an aspect of 19th-century history and daily life. All programs include an afternoon snack, hands-on crafts, and the chance to learn something new while making lasting friends and memories. Click the appropriate age category below to see 2021 program options!
COVID Safety Protocols
Summer Discovery Adventures will look a little different this year. We are working to ensure that your child has the most enjoyable and safest experience possible during this difficult and ever-changing time. We will take all possible safety precautions to ensure that we abide by the Massachusetts Department of Education and CDC guidelines. Safety measures include masking at all times (except for while eating), social distancing, and thorough cleaning of shared spaces and materials.
Click here to read more about COVID-related Protocols
Here are some things to know about this summer that are different from past program sessions:
Discovery Adventures will run for 6 weeks, with only 3 groups per week for a maximum of 30 program participants per week.
Program participants will be placed in small groups with 2 staff. They will remain in that group for all activities.
There will be no before and aftercare this year. This is to allow staff more time for proper cleaning and sanitizing of teaching spaces and supplies.
All drop-off and pick-up will take place outside of Museum Education, except in the case of inclement weather.
Parents/guardians will verbally answer a few health-related questions about their child every morning upon arrival. Staff will be expected to pre-screen themselves each day and stay at home if they do not feel well.
Because of the restricted capacities in the Village's historic buildings, most activities will take place outside. The museum is closed to the public on Mondays and Tuesdays, but will be open on Wednesdays, Thursdays, and Fridays.
At the moment, there will be no group hearth cooking this year. This will change if COVID restrictions allow for this type of activity.
Lunch times will be staggered to allow for proper social distancing, especially in the case of inclement weather.
Program groups will be kept apart as much as possible.
After receiving their costumes on Monday of the program week, participants will bring their costume home with them every day. They will come costumed each morning, and return the costume in full on Friday afternoon at the close of the session. Anyone who does not return all costume pieces at the end of the week will be charged a fee of $200.
Staff will be in touch with a Google form requesting information about sizes and measurements for costumes.
If you register for lunch, we will also be in touch with a list of food options for the week.
For out-of-state families: Due to the changing guidance from the state of Massachusetts related to inter-state travel, we are recommending you register now to reserve your spot. We will be back in contact with you 4 weeks prior to the start date for your child's Discovery Adventures week to confirm your ability to adhere to state travel guidelines at that time. If you are unable to comply, you will be issued a full refund and your spot will be offered to someone from the waitlist. 
For more extensive information about COVID protocols, see the Discovery Adventures COVID-19 Guidelines here. This document will be updated regularly in accordance to changing guidelines.
Pricing (Unless Otherwise Mentioned)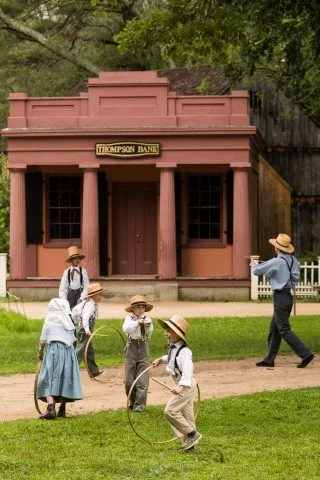 Through April 30, 2021:
Member–$275
Non-member–$300
From May 1 Onward:
Member–$325
Non-member–$350
Lunch can be added for an additional $43 per child per week during registration. Learn more here.
Registration Notes
Pre-registration is required for Discovery Adventure Programs.
Those registering siblings for programming within the same transaction receive a sibling discount of 10% off, applicable at check out
Registration closes at 7:00 am on the Wednesday before the start of each session.
Sessions frequently sell out, early registration is encouraged.
If you would like your child(ren) to be placed in a group with a friend or family member, it is strongly encouraged that all are registered at the same time. We are not able to add additional spaces once the program has sold out.
When changes are possible, a change fee will be assessed.
Due to space restrictions in Village buildings, the Journeymen program for ages 14-17 is currently under consideration. If guidance on these spaces changes, we may offer this program. Please stay tuned to this website for more information!
---
2021 Program Options
Abecedarians (Ages 6-7)
A Day in the Life
Register for July 5-9 SOLD OUT
Register for July 26-30 SOLD OUT
Explore the week of an 1830s kid in this day-in-the-life adventure! Taking on the roles of real kids from the early 1800s, we will experience their lives first-hand; from games, to farm chores, to school lessons. This program is an excellent sampler for those who have never been to Discovery Adventures before!
Barnyard and Garden
Register for July 12-16 SOLD OUT
Register for August 2-6 SOLD OUT
Calling all animal-lovers! In the 1830s, most people in rural Massachusetts were farmers. Adventurers in this program will spend the week learning all about the Village's heritage breed animals and life on the farm. Help out with chores in the fields and in the gardens, explore animal care, and discover the technological changes that made work easier in the 1830s.
Young Artists
Register for July 19-23 SOLD OUT
Register for August 9-13 SOLD OUT
Calling all blossoming artists! Students in this program will try out art projects inspired by paintings, pottery, and prints of the 1830s. We will get inspired by the Village's animals, gardens, and architecture to create beautiful art. The week will culminate in a show of our works.
Peddlers (Ages 8-10)
History Detectives
Register for July 5-9 SOLD OUT
Register for August 2-6 (Group A) SOLD OUT
Register for August 2-6 (Group B) SOLD OUT
Explore the Village with fresh eyes as you try and unravel a week-long mystery! Detective trainees in this program will flex their mystery-solving skills as they decipher codes and hunt for clues. They will participate in traditional Discovery Adventures activities like crafts and chores, all tinged with an element of the mysterious as they compile leads throughout the week. If you participated in this program last summer, don't worry: there will be a new mystery to solve this time around!
Dirty Jobs
Register for July 12-16 SOLD OUT
Register for July 26-30 SOLD OUT
Life in the 1830s was dirty and smelly! Participants will get hands-on experience with the messiest tasks of life in the early 1800s: helping farmers around the barn, digging in the dirt of the Village's gardens, and helping with the messy task of cleaning wool.
New Frontiers
Register for July 19-23 SOLD OUT
Register for August 9-13 (Group A) SOLD OUT
Register for August 9-13 (Group B) SOLD OUT
With new products from around the world, new transportation, and the exploration of "uncharted" territory, the world was getting a little bigger for people in rural New England in the early 1800s. It was also a time of great social change. Participants in this experience will join the ranks of early explorers, activists, and inventors as they learn about the discoveries and movements of the time!
Apprentices (Ages 11-14)
Crafts and Trades
Register for July 12-16 SOLD OUT
Register for August 9-13 SOLD OUT
Plunge into the world of 19th-century artisans with this adventure that will give you hands-on experience with 1830s craft. Each day, participants will focus on a different trade like blacksmithing, textiles, pottery, and woodwork. After meeting with the Village's knowledgeable costumed historians, we will work on our own exciting projects from clay, wood, fabric, and metal. Please note: Because of materials costs, the fee for this program is an additional $25.
Militia
Register for July 19-23 SOLD OUT
Register for August 2-6  SOLD OUT
Taking on the role of a real 18th- and 19th-century Sturbridge militia or retired Revolution military man, our company will learn the discipline, drills, target practice, arms, clothing and personal equipment that were required of a member of an early New England militia. In addition to all the practice drills, you'll try some authentic outdoor camp cooking and participate in other militia-related activities. Please note: Because of materials costs, the fee for this program is an additional $25.
Pins and Needles
Learning to sew and knit was an important skill for boys and girls in the 1830s. We'll learn the basics of knitting, work on useful sewing projects like needle cases, and create skilled and beautiful embroidery. Try out wool dyeing, spinning, weaving; and explore the Village's textile collections!
Pen to Paper
Register for July 26-30 SOLD OUT
Explore the written word from the past! We will hone our skills and flex our creativity through writing exercises and games. We will also immerse ourselves in the stories, poems, and songs from the 1830s and today. Participants will draw inspiration from the Village's surroundings to create their own portfolio of writing.