Independence: 4th of July Celebrations
July 2-4, 2022
Times: The Village is open from 9:30 am to 5:00 pm
Cost: Included with standard daytime admission or Village membership. Standard daytime admission is $28 for adults, $26 for seniors (55+), $14 for college students (with a valid college ID).
Get Tickets
Celebrate Independence Day Weekend with a citizens' parade, fife and drum music, cannon demonstrations, and more at Old Sturbridge Village! Learn how and why early 19th-century New Englanders celebrated the holiday, hear a stirring reading of the Declaration of Independence, and hear excerpts from Frederick Douglass's 1852 address "What to the Slave is the Fourth of July." You can also join in a game of old-fashioned style baseball and watch a toy hot air balloon flight!
Please note that some programs are weather-dependent and may have to be moved inside or canceled in the event of heavy rain. Schedules are subject to change. 
Click here to see the schedule for Saturday, July 2nd
Click here to see the schedule for Sunday, July 3rd
Welcoming New Citizens
On July 4th only, watch and be inspired by a citizen naturalization ceremony on the Village common. The U.S. Citizenship and Immigration Services (USCIS) will present candidates to the United States District Court for the District of Massachusetts, and they will pledge their Oath of Allegiance to the United States for the very first time. 
Firing the Cannon
An exciting feature of the Independence Day festivities is the firing of our reproduction cannon. There were 46 militia units armed with cannons in Massachusetts in the 1830s and one of them was located in here in Sturbridge. These units fired their cannons on militia training days and during celebrations, like the 4th of July. Our cannon has a cast-iron barrel and is mounted on a carriage made by Village artisans.
Celebratory Song and Dance
On Monday, July 4th, hear special performances by the Old Sturbridge Village Singers and see the Old Sturbridge Village Dancers dance.
(Subject to change)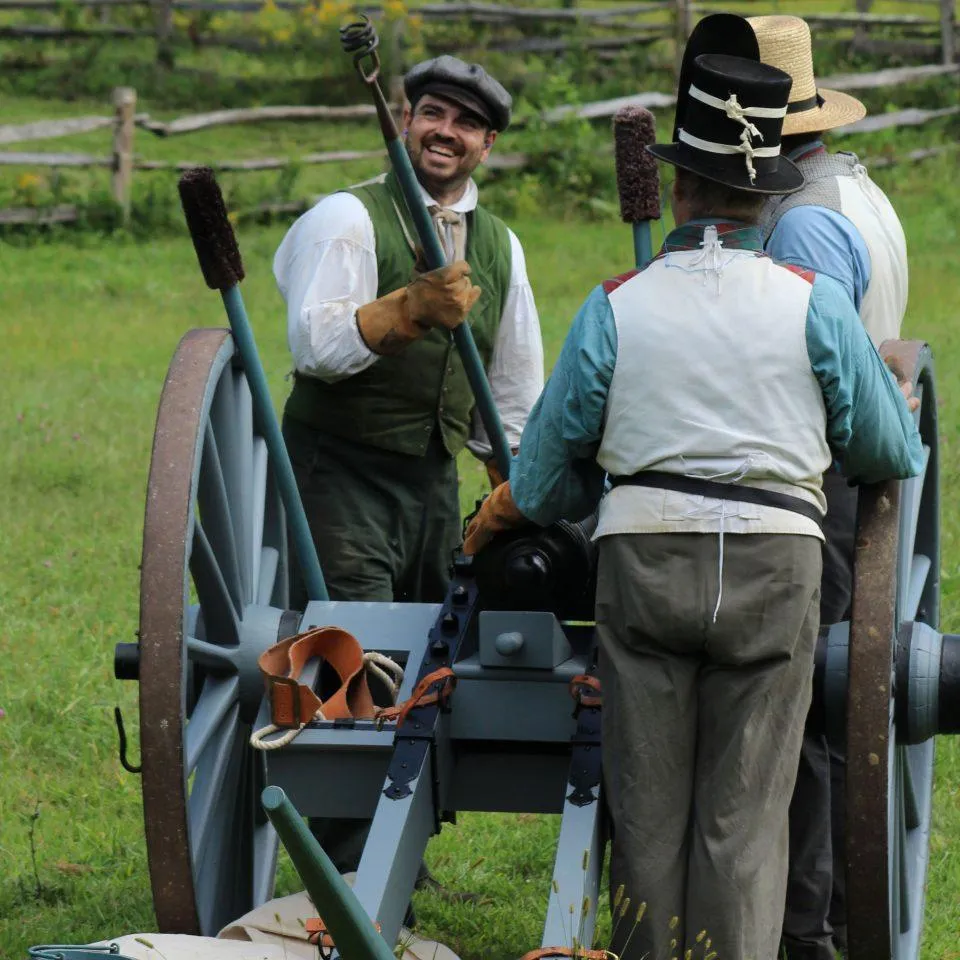 Food and Drink
Cool down with ice cream and cold drinks at the Scoop Shop, open noon-4:00 pm (weather permitting)
Try one of our famous chocolate chip or Joe Frogger cookies at the Miner Grant Store
Purchase sandwiches and drinks at the Bullard Café
Find hot food, salads, drinks, and treats at the Oliver Wight Café
On Sunday and Monday (July 3rd and 4th), enjoy grilled hot dogs, hamburgers, and more on the Common
"Declaring Independence" Returns
Six costumed interpreters will render the words of the Declaration line by line, assisted by a narrator who sets these words in their rich historical context. Some lines will be familiar to all; others – especially the many grievances that justified altering an ancient government – will receive background and commentary. As the interpreters dramatize these 18th-century words and ideas, the narrator will draw out their meaning and challenge the audience to consider their relevance and power for today.
"Declaring Independence" is part of a multi-year joint initiative of Freedom's Way National Heritage Area and the American Antiquarian Society to engage citizens in the ideas and transformative potential of the Declaration of Independence. This initiative includes researching the ways in which independence was conceived and debated within colonial communities in the years leading up to 1776; tracing how the Declaration's role evolved in American communities; and considering the challenges and potential of this living document for Americans today.
Tickets
Click here to get tickets for Saturday, July 2nd
Click here to get tickets for Sunday, July 3rd
Click here to get tickets for Monday, July 4th