February Vacation Week Discovery Adventures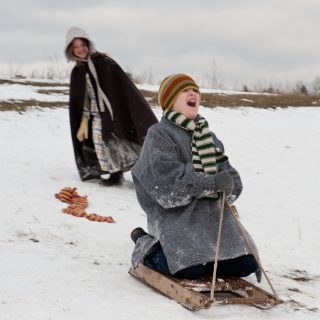 February School Vacation Week, February 20 -24, 2023; 3-Day and 5-Day programs available
Times: 9 AM – 3 PM
Discovery Adventures are immersive day programs that give kids a chance to step back in time and experience life in the 1830s at Old Sturbridge Village. Every session offers kids the opportunity to explore an aspect of 19th-century history and daily life. All programs include an afternoon snack, hands-on crafts, and the chance to learn something new while making lasting friends and memories.
Looking for adventures during April School Vacation Week? Learn more here.
Registration Notes
Pre-registration is required for Discovery Adventure Programs.
Registration closes at 7:00 am on the Wednesday before the start of each session.
Sessions frequently sell out, early registration is encouraged.
Lunch is available for an additional fee. If you purchase bagged lunches for your child, we will be in touch a few weeks prior to the program to ask for your meal selections. See the FAQ at the link below for more information
3-Day Program: Home & Hearth  Ages 6-14 | SOLD OUT
February 20-22, 2023
Sorry, this program is SOLD OUT. 
From the time they were six or seven years old, kids were really important to the daily upkeep of a household in the 1830s.  Participants in Home and Hearth will cook historical food in a brick hearth, practice 19th-century crafts, and get their hands dirty with some typical tasks at home and on the farm.
Activities may include:
Make a meal over an open hearth
Make a cheese grater
Do household chores in the Village
Learn herbal remedies
$180 members / $195 non-member | Lunch available for an additional fee.
---
5-Day Program: Young Artists | Ages 6-14
February 20-24, 2023
Calling all blossoming artists!  Participants in this experience will try out art and craft projects inspired by paintings, pottery, and prints of the 1830's.  We will get inspired by the Village's animals, outdoor spaces, and architecture to create beautiful art.  The week will culminate in a show of our works!
Activities may include:
Creating a sketch book
Baking over an open hearth
Work on a sewing project
Work with clay
Learn from an expert how to do a self-portrait
$325 members / $350 non-members | Lunch available for an additional fee.