April Vacation Week Discovery Adventures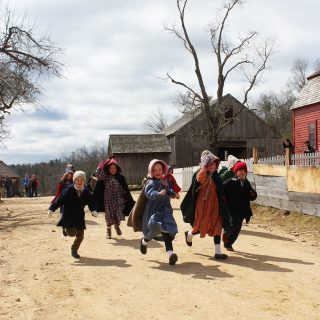 April School Vacation Week, April 18 - 22, 2022; 3-Day and 5-Day Programs Available
Times: 9 AM – 3 PM
Discovery Adventures are immersive day programs that give kids a chance to step back in time and experience life in the 1830s at Old Sturbridge Village. Every session offers kids the opportunity to explore an aspect of 19th-century history and daily life. All programs include an afternoon snack, hands-on crafts, and the chance to learn something new while making lasting friends and memories.
COVID Safety Protocols
We are working to ensure that your child has the most enjoyable and safest experience possible during this difficult and ever-changing time. We will take all possible safety precautions to ensure that we abide by the Massachusetts Department of Education and CDC guidelines. Safety measures include masking at all times (except for while eating), social distancing, and thorough cleaning of shared spaces and materials. Read more here.
Registration Notes
Pre-registration is required for Discovery Adventure Programs.
Registration closes at 7:00 am on the Wednesday before the start of each session.
Sessions frequently sell out, early registration is encouraged.
Lunch is available for an additional fee. If you purchase bagged lunches for your child, we will be in touch a few weeks prior to the program to ask for your meal selections. See the FAQ at the link below for more information
3-Day Program: Nature Exploration | Ages 6-14
April 18-20, 2022
Join us for a fun-filled, three-day costumed exploration of how the Village is transforming from winter to spring.  Explore our nature trails and see what is waking up after a long winter's sleep.  Learn what is left in the Freeman root cellar and how a family would be planning their planting for the spring.
$165 members / $180 non-members | Lunch available for an additional $25.80
Activities may include:
Make a walking stick
Make a nature journal
Tour the Village gardens
Help with weeding and turning over gardens
Watch a milking demonstration
Make soft cheese
Sew an herb bag
---
5-Day Program: Dirty Jobs – Spring Edition | Ages 6-14
April 18-22, 2022
Life in the 1830s was dirty and smelly!  Participants will get hands-on experience with the messiest tasks of life in the early 1800s:  helping farmers around the barn, digging in the dirt of the Village's gardens, and helping with the messy task of cleaning wool.
$325 members / $350 non-members | Lunch available for an additional $43
Activities may include:
Fix fences
Stack wood
Make soap
Build a Bootjack
Make ink and paper
Wash Laundry
Dye Wool