A Celebration of Cider and Music Festival
Sunday, October 14, 2018
Times: The Village will be open for special hours on this day: 11:00 am to 6:00 pm.
Cost: Included with daytime admission, a season pass, or Village membership
This year Old Sturbridge Village is pleased to announce its first Celebration of Cider and Music Festival. Building on our popular craft beer festival in July, we plan to showcase hard cider as part of our fall Apple and Agriculture Days. Along with these tastings we will feature several musical acts at multiple stages throughout the event.
With paid admission (or an active membership or season pass) to Old Sturbridge Village our guests (who are 21 and older and have shown a valid ID) will be given coupons to sample offerings (2 oz. pour) from 6 of their favorite ciders participating at the festival. They will also have the opportunity to purchase additional sample tickets (6 for $7) or full pours ($7) of each of the ciders featured in the festival. Those with free passes to the Village and Sturbridge residents can enter the Village for free but must purchase sample tickets (6 samples for $7) if they wish to sample ciders.
While guests enjoy the ciders and tunes they can also tour our historic village learning the importance of cider in early New England and visit our working 19th-century cider mill.
Check out the schedule for the day here.
PLEASE NOTE: The Village will be open special hours on this date: 11:00 am to 6:00 pm
Ciders (check back for the most up to date list!):
Food Available for Purchase During the Festival:
Sunday Brunch at the Oliver Wight Tavern (10:00 am – 1:30 pm)
Savor a Sunday in the company of friends, family, and good food at Old Sturbridge Village's Sunday Brunch at the Oliver Wight Tavern. Our brunch buffet includes made-to-order omelets, seasonal vegetables, signature salads, and chef specials such as roast turkey, baked salmon, and carved ham. Even the little ones can enjoy offerings catered to their tastes such as smiley fries, mac & cheese, and chicken tenders. Guests can also relax and enjoy their brunch with a handcrafted Mimosa, Bloody Mary, or other cocktails, wines, and beers. See a sample menu here.
Adults: $21.95
Seniors (ages 65+): $19.95
Children 10 & Under: $6.95
FREE for Kids under 3
Reservations recommended, call 508-347-0397.
Bullard Tavern Cafeteria (11:00 am to 3:00 pm)
Specializing in comfort food, one bite of the Bullard Tavern Cafeteria's chicken pot pie or mac & cheese will make you feel like a part of the Old Sturbridge Village family. Located on the ground floor of the Bullard Tavern, the cafeteria also offers other hot lunch options such as soup and chicken tenders, as well as healthy salads and sandwiches.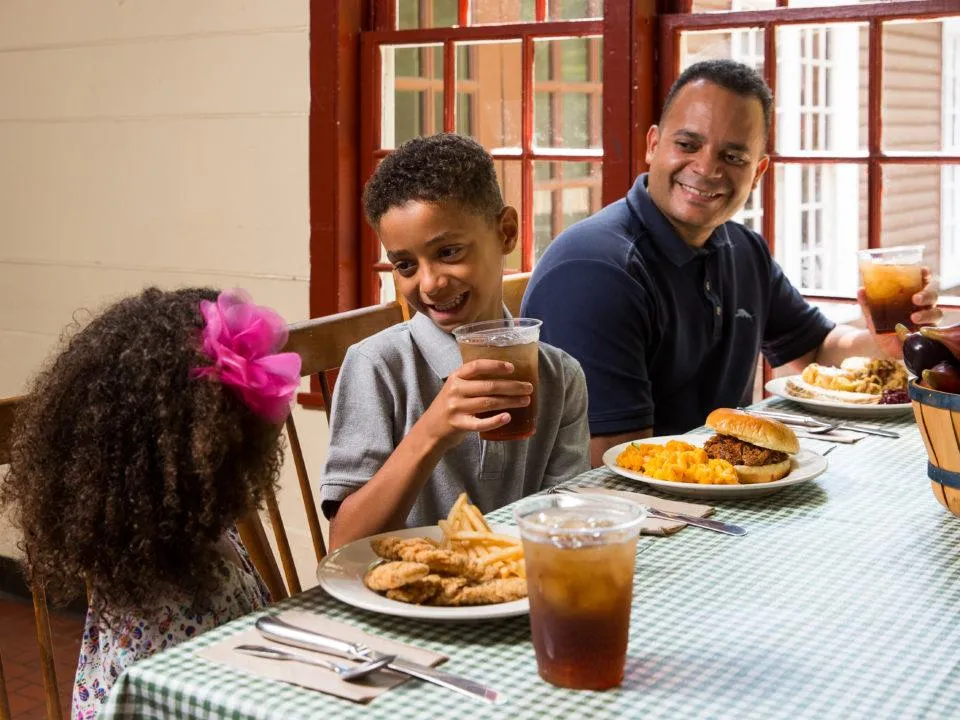 Village Grill (11:30 am – 2:30 pm; Weather Permitting)
Smoked Turkey Leg………………………………………$8.00
Smoked Pulled Pork Sandwich……………………$7.00
Grilled Hamburger………………………………………..$5.50
Grilled Cheeseburger……………………………………$6.00
Grilled Jumbo Hot Dog………………………………..$3.50
Side of Tavern Slaw………………………………………$2.50
Assorted Deep River Chips………………………….$2.25
Beer…………………………………………………………………$5.00
Bottled Water…………………………………………………$2.25
Coca Cola Beverages…………………………………….$3.25
Confirmed Bands & Music Acts: 
Amy Galatin and Stillwaters
Amy Gallatin, born in Muscle Shoals, Alabama, lived in several states before settling in the West, where she was raised. During her ten years in Idaho and Montana, she had had the good fortune of being able to work at two of her loves in life: horses and music; Amy helped to organize the horseback riding programs and was the featured entertainer at various guest ranches. Her performing background had been as a solo artist out West prior to her meeting some Connecticut musicians while wintering in New England in 1992. With that Connecticut connection came the opportunity to tour as a working unit, so Amy packed her guitar and moved east in the fall of 1993 to pursue her music. Eight albums later–including a "Live in Europe" album and two projects recorded in Nashville with ace producer Rich Adler–Amy Gallatin and her band Stillwaters have taken the stage at some of the most prestigious venues in the U.S., Canada, Mexico, UK, and Europe. Their recent tour of The Netherlands, Germany, Czech Republic, Switzerland and Denmark–the band's fifth–drew extremely enthusiastic crowds at house concerts, music clubs, theaters, country & bluegrass festivals. They have twice had the honor of representing the United States as the featured performers at the European World of Bluegrass convention in The Netherlands.
Visit their website here.
Annalyse and Ryan (from 2/3 Goat)
Annalyse & Ryan are an Americana husband and wife duo. They have recorded three albums and toured extensively with their band 2/3 Goat. After making a name for themselves as an emerging Americana act (2/3 Goat described by Lee Zimmerman in No Depression as "one fine ensemble" whose "every song [on 2016 album Let It Rise] is outstanding"), Annalyse & Ryan have begun branching out into various songwriting projects and a musical duo of their own. Annalyse, a true McCoy descended directly from the Kentucky side of the McCoy-Hatfield feud, brings deep storytelling roots to their music. Ryan was reared on the coast of southern New Jersey, and the epic movements of the Atlantic come through in the grooves he brings to their songs. Annalyse & Ryan have shared the stage with Kathy Mattea, Larry Campbell & Teresa Williams, and Smithfield. They were recently featured on John Platt's (WFUV) On Your Radar at Rockwood Music Hall in NYC.
Visit their website here.
Blackstone Valley Bluegrass
Blackstone Valley Bluegrass, with Dave Dick (banjo), Bob Dick (guitar, resophonic guitar and bass) and Ken Taylor (bass and guitar), has recently added mandolin player, Tim St Jean. Tim hails from Putnam, CT and is a fine singer, multi-instrumentalist, and songwriter.
Over the years, this group has built a solid and ever-expanding repertoire to go along with an engaging stage performance; they can really entertain an audience! They're all multi-instrumentalists and play a wide range of bluegrass styles … but what really sets them apart are their powerful 3 and 4 part harmonies. Come check out Blackstone Valley Bluegrass to hear some great bluegrass music, smooth harmonies, fast and tasteful pickin', and most importantly, to have a great time!
Visit their website here.
Hayley Reardon
"You will know more, be more, feel more, see more than anyone will give you credit for" sings Boston-based singer/songwriter, Hayley Reardon about midway through her sparkling upcoming release, "Good."
While offering a subtle pep-talk to the listener, Reardon simultaneously sums up herself and her humble approach to songwriting with this one lyric alone. The light in her voice, her lyrics, and her unique approach to both life and song has the uncanny ability to draw the listener inward to a place of clarity and reflection.
Born in 1996 just outside of Boston, Massachusetts, Hayley Reardon discovered a passion for writing folk songs on her mother's old guitar at a very young age. She quickly established a name for herself in the storied Cambridge, Massachusetts folk scene.
Reardon was named a Bostonian of the Year by the Boston Globe Magazine in 2012 in celebration of not only her music but her work to use it as a vessel for empowerment. With a voice that is distinctively rich and a contemplative sincerity in her songwriting, Reardon has far more in common with Patty Griffin, Lucinda Williams, and Tracy Chapman than many of today's young pop singer/songwriters, boasting a lyrical and melodic weight far beyond her years.
Performer Magazine describes her music as "brilliantly moving folk/pop with a lyrical depth and soul," while American Songwriter Magazine refers to Numb and Blue, the lead single from Wayfindings, as "a melancholy little masterpiece."
Her latest album, entitled "Good" (Fall 2016 release) was entirely fan-funded by a highly successful Kickstarter campaign. Produced by Lorne Entress (Lori McKenna, Catie Curtis, Erin McKeown), "Good" is a dazzling reflection of a period of immense growth and change, as lush arrangements surround the heart felt and humble rawness of Hayley's writing.
Visit her website here.
Jared Fiske
Jared Fiske is a singer-songwriter from Sturbridge, Massachusetts. Hailing from a musical family, Fiske began performing with his father, Rob Adams, and brother Seth from a young age in a wedding band.
These days, Fiske plays at bars and coffeehouses throughout Massachusetts, performing 100+ shows a year. He also teaches guitar professionally and runs a home recording studio.
Visit his website here.
Nick Anderson and Shady Creek
Nick Anderson and his band Shady Creek play traditional bluegrass music. Nick captures the essence of bluegrass with drive, soulful singing and a genuine love for the music.
Visit their Facebook page here.
Learn More About the Role of Cider in Early 19th-Century New England
Read More
Check out 10 Fascinating Facts About Cider
Learn More