Educator Resources
Resources for Before You Visit on a Field Trip
Visit Guides, Curriculum Matches, and Pre-Visit Materials for Civics-Based Programs
Self-Guided Visit Materials
Self-Guided Materials
With the Explore option, 3rd–8th grade groups have the option to use our themed self-guided activity sheets to explore the Village.
Suggested Self-Guided Tour Routes 
Make History – Cooking and Eating
Make History – Amazing Agriculture
Pre- and Post- Visit Worksheet
Town Meeting Resources (for Before Your Visit)
Below are downloadable tools to support your group's participation in Town Meeting. Educators are strongly encouraged to use these materials in advance of your program.
Pre- and Post- Visit Materials
19th-Century Town Government Brief
Historical Background on the Poor and Poor Relief in Early 19th-Century New England
What to Expect for Town Meeting: Poor Relief in the 1830s
Abolition and Social Change in 19th-Century New England Resources (for Before Your Visit)
Below are downloadable tools to support your group's participation in the Abolition and Social Change in 19th-Century New England program. Educators are strongly encouraged to use these materials in advance of your program.
What to Expect for Abolition and Social Change in 19th-Century New England
Music and Anti-Slavery Resources for Post-Visit Lesson
Optional Additional Lesson Bios
Curriculum Matches
Students at all levels can access and enjoy the benefits of a field trip at Old Sturbridge Village through hands-on interaction, primary sources, and group discussion/reflection.
Review how field trips at OSV match up with specific curriculum standards:
Massachusetts Science and Technology
Autism Spectrum Resources
Please feel free to utilize this know before you go guide, social story, visual schedule, and therapeutic self-guide for your visit. Created for visitors on the autism spectrum or those sensitive to stimulation, these resources will help to guide your trek around the Village, as well as prepare for a field trip or family visit. Please contact Museum Education with any questions by emailing osved@osv.org or calling (508) 347-0287.
Old Sturbridge Village Social Story
Hands-On Workshop Descriptions
Home
Grades: K-12

During this workshop, students work together to make a sweet treat over an open hearth. Led by a museum educator, students make a snack using 19th-century recipes (or receipts, as they were known in the 1830s). Participants read and interpret the recipe, measure ingredients, and get hands-on cooking experience. While the snack is cooking, educators orient students to 19th-century foodways and compare and contrast with their lives today.
Depending on the season, topics may include:
Food preservation and the seasonality of food in the 1830s
Children's chores; gender roles in farming families
Herbal remedies
Exploration and examination of historic kitchen tools
Ingredients used in this workshop include: flour, butter, sugar, eggs, nutmeg, cinnamon, lemon juice
Recipes may vary based on the season (for example, apples during the fall, maple in the spring)
*Please note: Our kitchens are not allergen-free. This workshop is not recommended for groups with many food allergies or restrictions.
Textiles
Grades: 2-12
Participants in the textile workshop walk through the steps of wool processing, from the shearing of sheep to weaving fabric. The 1830s were a time of great technological and industrial change in America. Even in Sturbridge, where sheep outnumbered people, several textile factories popped up along the rivers to speed up the textile making process. Museum educators instruct students in several hands-on tasks–carding wool, trying out a spinning wheel, and weaving on a loom–while discussing the transition of homespun goods to textile factories during the Industrial Revolution.
Other topics may include:
19th-century clothing and how it was made, where it came from,
and what fibers were used to make it in comparison to today's clothing
The cleaning and dyeing of textiles
Children's chores
Slavery and its connection to the Northern states
Farming and agriculture; economics
Farm and Garden
Grades: K-8
For many people, daily life in rural New England rotated around the farmer's year. In an area like Sturbridge, most families had at least a small farm or garden. Participants in this workshop will try out several agriculture or horticulture activities related to the farmer's year. During the spring, students work with historic gardening tools in raised beds, plant seeds to take home, and work together to assemble a model split-rail fence, among other activities. In the fall, explore two important tasks for harvest season: converting apples to cider, and processing dried corn into cornmeal.
Other topics may include:
Food preservation
Indigenous foodways and horticulture practices
Children's chores; gender roles on the farm
Environmentalism and the changing landscape
Print
Grades: K-12
In the 1830s, printers held a very important role in their communities. Printing books, newspapers, invitations, and broadsides, printers played a vital role in the communication of information during the 19th century. In this workshop, participants will explore the printing through few hands-on activities related to the printed word. Museum educators guide students through paper marbling, quill pen writing, and using a printing press. Younger students may use slates for writing and block prints for printing.
Other topics may include:
Education and literacy
Apprenticeships and choosing a trade
The role of women and People of Color in the print shop
Technological changes and communication
Woodworking
Grades: 4-12 
In the woodworking workshop, students explore two different activities to learn more about woodworking trades in the 1830s. In one activity, participants use their measuring and spatial skills, as well as period hand tools, to create a small wood project to take home with them. In the second activity, the group works together to follow a plan to assemble a small timberframe structure while learning about the many different types of woodworking that were part of everyday life in the 1800s.
Other topics may include:
Simple machines
Woodworking tools and their uses; trades in the 1830s
The changing landscape and attitudes about the environment compared to today
Games
Grades: K-4
Life for children in the 1830s wasn't all chores and hard work. Children still had time to play, often making use of homemade toys and games. Participants in this workshop explore games and toys from the 1800s before making their own toy to bring home. Younger participants sand and paint small wooden houses, based on toys in OSV's collection; and older students make a 9-Men's Morris board and learn how to play this ancient game of strategy. The session ends with outdoor play, weather permitting.
Other topics may include:
Children's life and chores, especially compared to today
Jobs in the 1800s
Education
Economics–where did the toys come from? Who bought toys, and who made them?
3D Tours, Virtual Resources, and other Class/Home Activities
3D Tours
If you can't visit Old Sturbridge Village in person, explore several of the Village's buildings in this new 3D tour! Even if you have visited OSV many times before, this tour will allow virtual visitors to get up close to artifacts that are usually tucked behind barriers. Catalog the items in the Asa Knight Store, examine the pottery on the shelves in the pottery shop, and see what new discoveries you can make in the Freeman Farmhouse!
Throughout the tour, pins will allow you to look closer or learn new information. There are also new videos with some of the Village's knowledgeable costumed historians to bring life to the spaces.
Lesson Plans for 3D Tours
These lesson plans, hands-on activities, and primary sources will enhance the 3D tour experience for your students!
Each lesson plan includes a worksheet PDF, which you can download below. To make it easier for remote learners, we have also created a Google Classroom with fillable documents that educators can download and assign to their students.
See currently available lesson plans and more here.
Hands-On Crafts, Writing Prompts, & More
Get busy with projects inspired by the village! Download instructions by clicking the links below:
e-Civics | Free Virtual Education Programs for Kids
School classes and home school groups are invited to join us for self-paced, interactive e-civics social studies programs from the comfort of home! Our e-Civics programs are an opportunity to test out some great classroom resources that meet many of the latest social studies standards for grades 5 and 8-12 in Massachusetts, Connecticut, and Rhode Island. Click here to learn more.
Additional Resources
Click here for additional primary source documents, articles, and papers.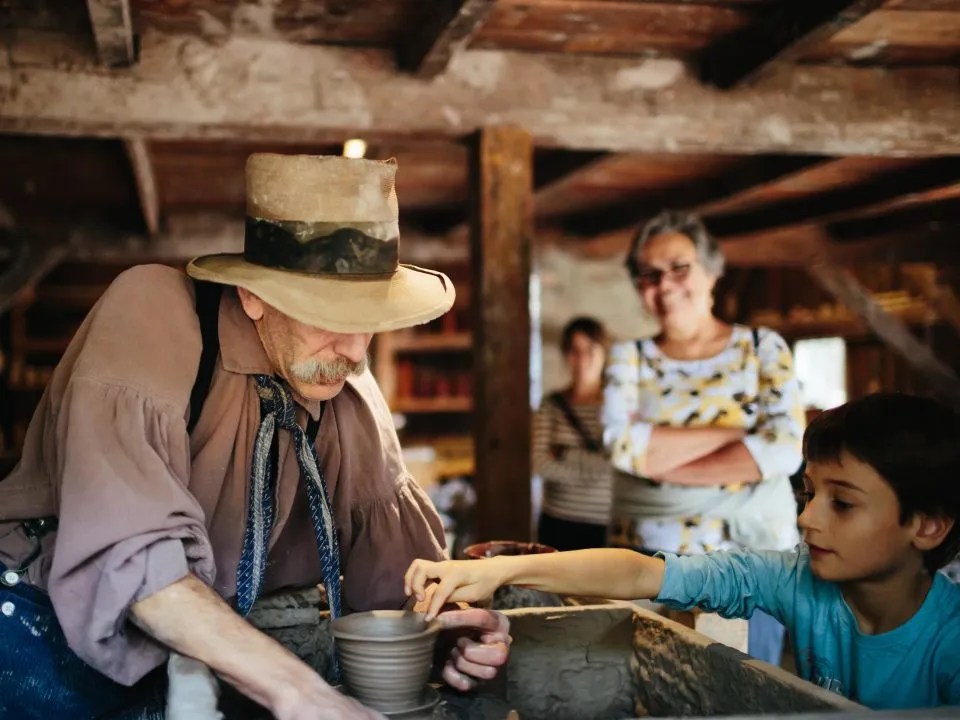 Field Trips for Schools and other Youth Groups
Learn More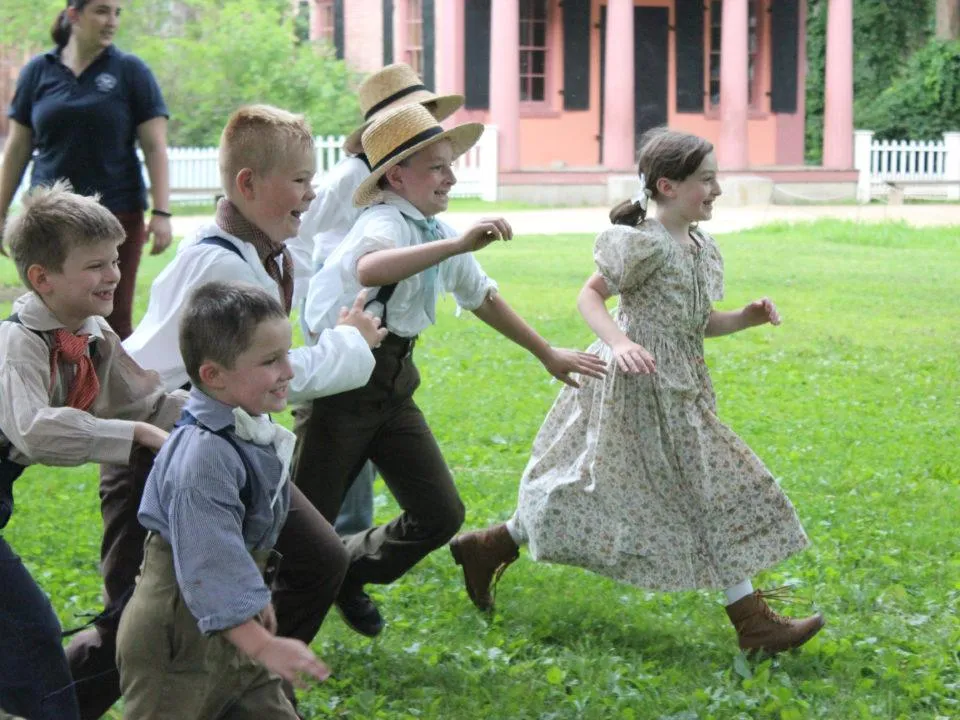 More Education Programs: Home School, Scouts, Discovery Adventures
Learn More