Cabinetmaking Shop
Sturbridge and the surrounding region were home to some of the foremost rural cabinetmakers of the early 19th century, including Nathan Lumbard and Oliver Wight. These craftspeople, as well as others like them, were integral to 19th-century rural New England communities. In 2017, Village staff and Trustees began working on a plan to create a permanent home for cabinetmaking at the Village. The Cabinetmaking Shop opened in October, 2021, as a highlight of the Village's 75th anniversary.
In the new cabinetmaking shop,  cabinetmakers discuss the tools and techniques used in period furniture construction, including turning demonstrations on a treadle lathe, preparing stock with hand tools, and Federal-style table construction.
The Cabinetmaking Shop is a hybrid building, built using both historic and modern building methods in the construction of the Shop. The shop is patterned after period structures operated by early 19th-century New England craftsmen. Many elements of the final Cabinetmaking Shop will be created by craftsmen and interpretive staff working in the Village, including reproduction period tools, doors, shelves, and the box stove. The large timbers for the construction of the shop were even cut by the Village Sawmill.
For a variety of reasons, including modern building codes, providing ADA access, safety, visitor comfort, and making the craft demonstrations more visible to the public, this building was constructed using some modern tools, materials, and techniques as well.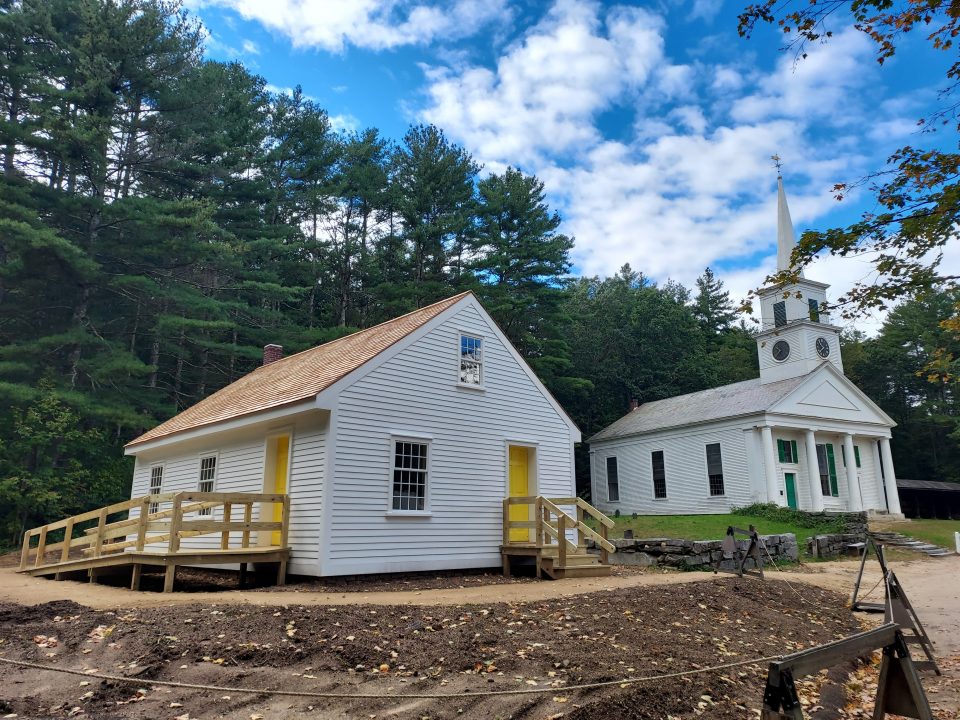 Did you know?
One of the first things visitors will notice upon visiting the Cabinetmaking Shop is the building's bright yellow door. This color is not only historically accurate but also inspired by a painting in the museum's collection. In 2018, we acquired a landscape depicting the home and shop of chair maker G. Bradley of Fairfield, Connecticut. In the painting, dated June 7, 1828, both buildings have yellow doors. When it came time to choose colors for the new Cabinetmaking Shop, it seemed a great opportunity to make a connection to a collections object and make a nod to Bradley's shop.
A scale model of the shop, built by Old Sturbridge Village Trustee Bob Roemer, is pictured below. See more pictures from the building process here.