Lesson Content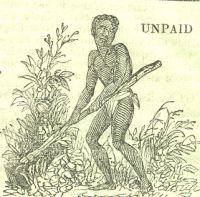 Essential Questions
1. What arguments did the abolitionists use to oppose slavery? What arguments did their opponents use?
2. Why did so many people in the North resist antislavery reform in the 1830s and 1840s?
3. What were the methods used by the abolitionists to persuade the American people? How well did they work?
Overview
This lesson contains
primary source documents,
grouped by a thematic topic for study. They provide historical understanding of American history during the early nineteenth century. During this time of expansion and reform, these documents and images reveal the values and culture that shaped our history, promote historical thinking, and stimulate class discussion, debate, and writing.
All of the documents are from the New England area and provide information about the growing concern about slavery in the United States during the first half of the nineteenth century.
Teachers can effectively incorporate them into a lesson or create new lessons around them. Each primary source document is accompanied by a headnote that provides information pertinent to the document.

A historical background paper, included with the Papers and Articles, provides some additional information and context for the selected documents.

Additional Teacher Resources, Papers and Articles, and an Activity Sheet are included to assist teachers and students using these materials.

A curriculum introducing primary sources is available as a Unit Plan.
Skills
Students will utilize the following skills:
Interpret and analyze primary source documents
Develop research skills
Develop historical understanding
Grade Level
Middle, High School
Objectives
Use primary source documents to read about firsthand accounts of Northern views about slavery in the early 1800s.
---
National Standards
---
NL-ENG.K-12.1

Reading for Perspective


Students read a wide range of print and nonprint texts to build an understanding of texts, of themselves, and of the cultures of the United States and the world; to acquire new information; to respond to the needs and demands of society and the workplace; and for personal fulfillment. Among these texts are fiction and nonfiction, classic and contemporary works.

NL-ENG.K-12.2

Understanding the Human Experience


Students read a wide range of literature from many periods in many genres to build an understanding of the many dimensions (e.g., philosophical, ethical, aesthetic) of human experience.

NL-ENG.K-12.3

Evaluation Strategies


Students apply a wide range of strategies to comprehend, interpret, evaluate, and appreciate texts. They draw on their prior experience, their interactions with other readers and writers, their knowledge of word meaning and of other texts, their word identification strategies, and their understanding of textual features (e.g., sound-letter correspondence, sentence structure, context, graphics).

NL-ENG.K-12.6

Applying Knowledge


Students apply knowledge of language structure, language conventions (e.g., spelling and punctuation), media techniques, figurative language, and genre to create, critique, and discuss print and nonprint texts.

NL-ENG.K-12.7

Evaluating Data


Students conduct research on issues and interests by generating ideas and questions, and by posing problems. They gather, evaluate, and synthesize data from a variety of sources (e.g., print and nonprint texts, artifacts, people) to communicate their discoveries in ways that suit their purpose and audience.

NL-ENG.K-12.8

Developing Research Skills


Students use a variety of technological and information resources (e.g., libraries, databases, computer networks, video) to gather and synthesize information and to create and communicate knowledge.

NSS-USH.5-12.4

Era 4: Expansion and Reform (1801-1861)

Understands United States territorial expansion between 1801 and 1861, and how it affected relations with external powers and Native Americans.
Understands how the industrial revolution, increasing immigration, the rapid expansion of slavery, and the westward movement changed the lives of Americans and led toward regional tensions.
Understands the extension, restriction, and reorganization of political democracy after 1800.
Understands the sources and character of cultural, religious, and social reform movements in the antebellum period.