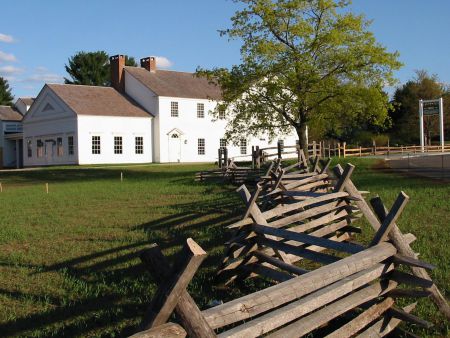 Current Events:
Sunday Brunch - Weekly 10:00 a.m. - 2:00 p.m.
Tap Room Lunch -
Monday - Saturday, 11:30 a.m. - 4:00 p.m.
Sunday, 12:00 p.m. - 4:00 p.m.
Village Cafe - Daily 9:30 a.m. - 5:00 p.m. for fresh-baked pastries, light lunch selections, and coffee.
Weddings, Corporate Meetings, Special Events:
Call 508-347-0306 or
email us
for more information
Sitting just outside the Visitor Center entrance to Old Sturbridge Village is a modern adaptation of an 1830s rural New England tavern. The Oliver Wight Tavern seats more than 300 patrons in four distinct dining rooms, reflecting the atmosphere, décor, and social functions of a country tavern's public gathering places.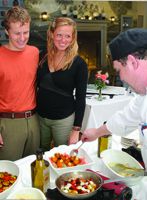 Located at the threshold of New England's largest living history museum, the Oliver Wight Tavern at Old Sturbridge Village presents the foodways, receipts (recipes), furnishings, ambiance, and community spirit of a "licensed house" that provided early New Englanders with a world of information, entertainment, recreation, socialization, citizenship, and great Yankee dining!
In the spacious Federal Ballroom and adjoining Federal Parlor, find working hearths (the latter often used for Friday-evening dining in the colder months). In the Tap Room, sample the kind of hospitality early American travelers would have enjoyed. In the Grecian Parlor, used mainly for private functions, experience the gracious service and elegant appointments of a period "ladies parlor."