Cider Mill
Brookfield, New Hampshire, c. 1835
Re-erected at OSV, 1985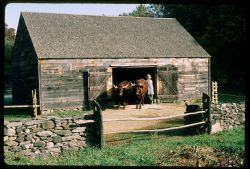 On a small parcel of land next to the barnyard lies the Townes' apple orchard, and just beyond it sits the Cider Mill. Since few farmers owned their own cider mills, mill owners rented them to others after they had made all their own cider. In September and October, cider mills like this one were at work throughout New England, as their horse-powered crushers and hand-operated screw presses converted most of the region's apple crop into cider. New Englanders traditionally barreled cider as a beverage for household consumption and left it to turn "hard" or alcoholic. But during the 1830s, cider mills were not as busy as they had been earlier. Under the impact of temperance reform, both cider consumption and the acreage of farms planted to orchards were diminishing.


Excerpted from Old Sturbridge Village Visitor's Guide
Edited by Kent McCallum
© 1993,1996, Old Sturbridge Inc.