Covered Bridge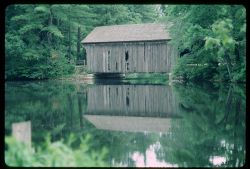 Contrary to popular belief, covered bridges were not built that way to keep the snow and rain off travelers. And not all New England bridges were covered. The builders of covered bridges wanted to outsmart Mother Nature and make their structures last as long as possible by protecting them from New England weather. The covered bridge's roof and sides were easy to replace. They kept wind, rain, snow, and sleet from the heavy beams and timbers that supported the bridge load.
Ironically, it was necessary to shovel snow onto covered bridges in the winter to let sleighs and other horse-drawn vehicles pass over them. Only a few covered bridges remain--as they deteriorated, they were replaced by concrete and steel bridges, which don't need wooden covers to protect them.


Excerpted from Old Sturbridge Village Visitor's Guide
Edited by Kent McCallum
© 1993,1996, Old Sturbridge Inc.