Gary O'Brien

Edited and revised from his research notes

January 1981

Old Sturbridge Village
The craft of basketry, or the art of weaving containers from pliable materials such as willow branches, reeds, straw, or thin strips of wood, has an ancient though sparsely recorded history. Some of the earliest known examples of basketware, including granaries and willow-framed ox-skin boats, have been attributed to the neolithic cultures of Egypt and Assyria. A wide variety of baskets and woven-wicker utensils were available to the ancient Greeks and to the Romans; and medieval manuscripts provide ample evidence of the basketwares used by Gaulish and Celtic inhabitants of northern Europe.1 Basketmaking was a long recognized and well established craft in England, where a Basketmakers' Company (or craft guild) was established in London in 1569. Records of their activities date from 1666, and they include regulations governing the exactness of size for baskets that might be used for measurement.
It is not surprising, therefore, that baskets of many types were familiar household articles in the effects of European colonists in America. Estate inventories from early New England routinely itemized basketwares of every description. Items in the garret room of Captain Hopestill Foster of Suffolk County, Massachusetts, in 1676, included hogsheads, barrels, sieves, a winnowing fan, and a half-bushel basket. In 1677, the effects of Andrew Dewing included a half-bushel basket, a winnowing fan, and a half-peck basket; and another list mentioned two sieves, two baskets containing wool, a half-bushel basket, half-peck basket, and a straw hive or bee skep.2
The 1732 inventory of the belongings of Reverend Ebenezer Thayer of Roxbury included a small "Child bed Baskett," and another list from 1750 mentioned a "Cloaths Baskett."3 Baskets continued to appear in New England probate records throughout the late 18th and early 19th-centuries, and a fine example can be found in the 1829 Worcester County inventory of the estate of Doane Atwood of Sturbridge. Atwood's furnishings included a cheese basket and hoops valued at .25, two small baskets worth .06, two baskets valued at .50, a fruit basket valued at .08, and two clothes baskets at .12 each.4 Sizes in pecks, bushels, and half sizes were often mentioned in inventories, but a great many listings referred only to "baskets." Doubtless, baskets along with other less valuable furnishings were often merely included as "sundry items" and not specifically described.
Baskets in New England were used extensively as general household and agricultural containers, and an amazing variety of types and shapes were produced and used for a great many functions. In addition to the most common types (bushel baskets, hampers, and market or garden baskets), designs can be often identified with very specialized purposes. There were ox muzzles, cheese baskets, winnowing fans and sieves, sewing baskets, apple-drying baskets, egg baskets, pigeon baskets, and even woven eel traps, splint funnels, and straw beehives.
Although it is clear that baskets of almost every description have long been items in common household usage, the history of their manufacture and distribution in America is more difficult to document. Basketmakers seldom identified their products, and artifacts accompanied by reliable documentation are very rare. In general, however, it does appear that by the early 1800s baskets were available to New Englanders from four basic sources: importers of European basketware, regional American Indian basketmakers, Shaker community interests, and local "Yankee" producers.
1)    Imported basketwares were available in the period, but little is known in detail about them. It is clear that such goods were brought into Boston and New York and were sold by merchants in regional market centers like Worcester. The Massachusetts Spy for the 1830s, for instance, includes fairly frequent advertisements for "French fancy baskets". Dutch baskets, and, probably in relatively small quantities, Chinese baskets were available as well. Inventories, ledgers, and bills of lading for country stores do not specifically describe imported basketware, so that it is unknown whether these items were available for direct purchase in country stores, or could only be obtained in the larger commercial centers.
2)    Indian basketry was a flourishing art by the time the Pilgrims arrived in the New World. Englishmen exploring the land for a suitable settlement site in 1620 discovered basket work in underground granaries built by Atlantic seaboard Indians:
And we digged further and found a fine great new basket, full of very fair corn of this year.... The basket was round, and narrow at the top. It held about three or four bushels; which was as much as two of us could lift up from the ground, and was very handsomely and cunningly made.5
In addition, the Pilgrims found in unoccupied shelters made of boughs,
...baskets of sundry sorts, some bigger and some lesser, some finer and some coarser, and some curiously wrought with black and white in pretty works.6
Indian basketmakers had long worked with materials, such as sweet grass and birch bark, which were rarely used by the new settlers. The Indian baskets frequently had broad and narrow weavers, dyed or painted splints, flaring sides and stamped decorations characteristic to the region or tribe. Ann Wampy (1760 - 1836), from the Pequot Reservation near what is now Led-yard, Connecticut traveled about each spring selling the baskets she had made earlier in the year.7 An Indian basketmaker named Aaron Occum made and traded baskets in the Paxton, Massachusetts area in the late 1700s:
He had his home near the southwest point of Turkey Hill Pond.... Close by his cabin was a large flat rock, on which he pursued his occupation of beating brooms and making baskets, in which arts he was a master, and his wares found ready sale in the vicinity.8
Molly Hatchett (1738 - 1829) of the Paugusset at Turkey Hill in Derby, Connecticut, was a well-known and widely travelled basketmaker of the period. Molly was known particularly for her small basket-rattles for children, but she and other Paugusset also produced covered storage baskets, bailed work baskets, small square and rectangular work baskets.9
Although Indian basketmakers were extensively familiar with pounded splint-work basketry by the early nineteenth century, scholars have been unable to demonstrate that splint baskets were being made by the Indians before the arrival of the English and other European peoples. Certainly, the English tradition of making shaved splint or "spale" baskets is quite ancient, and the skill could well have been transferred to New England with the first settlers. One researcher, Ted Brasser,10 suggests that pounded wood-splint basketry techniques were transmitted primarily from Swedish colonists to Indians in the lower Delaware Valley around 1700, and spread from there throughout the New England region. Indians "soon excelled in this craft and were teaching it to the...settlers. This is one reason why it was believed the Indians developed the use of splint."11
3) The Shakers were a radical religious sect of English Quaker origin, who appeared in America in 1774. Between 1789 and 1794 their numbers expanded significantly in New York and New England, with the formation of eleven communities devoted to celibacy, tightly organized spiritual and social life, high standards and industriousness in farming and crafts work. As early as 1809, Shaker societies (important New England ones were in Hancock and Harvard, Massachusetts and Canterbury, New Hampshire), were producing large number of baskets for market outside their communities. The weaving of style and design, especially as their work developed into a well organized community activity. However, some of their work was coarse and heavy to suit the needs of their diversified activities. They distributed their goods by consignment to outside agencies, the maintenance of regular delivery routes, retailing through their community stores, and wholesaling to major distributing houses.
4) Local Yankee basketmakers provided another source for baskets in New England. Many surviving examples of nineteenth-century baskets were apparently produced by individuals who were not highly skilled or experienced basketmakers. These people may have included farmers, their wives, children, or any other person whose main occupation was not basketmaking. Certainly some baskets were considered likely products of household manufacture,13 and basketmaking may have been a good source of extra income. Betsey Colby, daugher of a basketmaker in Weare, New Hampshire, was reputed to be a fine basketmaker; and around 1840, a Mrs. Glover of Haverhill was making and selling baskets in the upper Connecticut Valley area.14
The famous Nantucket Lightship baskets were a distinct regional variation of Yankee basketwork, which used imported rattan for weavers and solid wood for the bottoms. These baskets were probably first produced on the island during the second quarter of the nineteenth-century, and then for many years were made by the men on the lightships off Nantucket.
However, a number of somewhat more highly skilled basketmakers, who devoted most of their time to the craft, were active throughout New England during the early nineteenth-century, and some of their activities can be documented. The U. S. Census of Manufactures for 1820 recorded two shops in Rutland, Massachusetts:
Levi Pierce, Junior has a manufactury for making white oak baskets - annual amount of sales $200.... Levi Pierce has a manufactury for making white oak baskets annual amount of sales $250.15
The Report on Industry in Massachusetts for the year ending April 1, 1837 listed a Berlin establishment selling $750 worth of baskets and employing three hands. This may have been the shop of Rufus Howard, who worked as a basketmaker in Berlin from the 1820s until at least the 1850s. From the Worcester County Deeds we know that he owned half a farm, at least one cow, and that he purchased a shop on August 11, 1830. We can speculate that he was combining basketmaking with at least some farm work. The same report recorded a West Boylston shop selling $2,450 worth of baskets, employing five hands and having $575 worth of capital invested. Worcester County Deeds record the purchase of an artisan's shop on the southwesterly side of the West Boylston common by Edmund F. Brigham, who gave his occupation as basketmaker in the 1850 census.
Jephthah Poole was a basketmaker from Hampshire County, Massachusetts, during the first quarter of the nineteenth-century. His baskets were traded locally at a store in Charlemont, Massachusetts from 1817 to 1823. Poole exchanged his baskets for credit at the store, with the storekeeper taking a fifteen percent commission.17
One of the largest basketmaking communities in New England was apparently the town of Mansfield in southeastern Massachusetts. Abner Bailey is reputed to have been one of the first basketmakers there, and at the time of his death in 1837, the value of basket production in that town was valued at $4,000. By 1845, the town's annual production had increased to 35,200 baskets valued at $5,228. An inventory of Bailey's property included a saw, fifty-eight unfinished baskets, and a basketmaking machine.18 The machine may have been a device that accepted wooden molds of various sizes on which baskets could be woven. The Shakers apparently wove on molds, although to what extent and how early such devices may have been used by Indian and local Yankee basketmakers is not known.
In addition to the data on Mansfield, the statistical tables in the report on the Branches of Industry in Massachusetts for 1845 list three basketmakers in Worcester County:
Webster: value of baskets made, $25.

Fitchburg: baskets made 100, value $30.

Leominster: value of baskets made, $900.
It was apparently common for early nineteenth-century Worcester County basketmakers to own woodland, thus providing themselves with the necessary raw materials. Worcester County Deeds show Justin Maynard of Leominster, Stephen Cole of Sutton, Edmund F. Brigham and Levi Pierce, Jr. of West Boylston all purchasing tracts of woodland during the 1820s and 1830s. These purchases ranged in size from about three acres to 34 acres. Deed records suggest that oak, a suitable tree type for baskets, was represented in at least some of these woodlots.
There were those, however, who were beginning to search elsewhere for wood supplies, due to the continuing expansion of cultivation and the consequent deforestation of southern New England. According to George Everson's 1846 forestry report,
Every mechanic who works in wood, looks every year more and more out of the state for his materials. Every year we are more dependent on Maine and New York and some of the southern states, not only for ship-timber and lumber for housebuilding, but for materials for tanning and dyeing, for carriage-making, basketmaking, planemaking, last-making, and for furniture and the implements of husbandry.20
Although the 1850 Federal census documents a period slightly later than our 1790 - 1840 time focus, it is our earliest source of detailed occupational information. We can see, for example, that basketmaking was distributed rather unevenly throughout the counties of Massachusetts:
| | |
| --- | --- |
|    COUNTY |         NUMBER OF BASKETMAKERS |
| Barnstable |   0 |
| Berkshire |   4 |
| Bristol | 50 |
| Dukes |   0 |
| Essex |   1 |
| Franklin |   9 |
| Hampden |   3 |
| Hampshire |   5 |
| Middlesex |   0 |
| Nantucket |   0 |
| Norfolk |   9 |
| Plymouth | 10 |
| Suffolk | 12 |
| Worcester |   29   |
| | 132   |
Based on a study of those individuals who could be located in the 1850 census for Worcester County, we can conclude that basketmakers were not a particularly wealthy or successful group of artisans. As a group, they were substantially poorer than the nonshoemaking artisans of Shrewsbury in 1850, and comparable in economic status to Shrewsbury's shoemakers:
          (Household Heads Only)
No Real
  Estate  
Over
$1,000 R. E.
Over
$2,000 R. E.
Worcester County Basketmakers
    47.8%
    17.4%
      4.4%
Shrewsbury Shoemakers
    53.5%
    16.9%
      1.5%
Shrewsbury Nonshoemaking
Artisans
    30.3%
    51.9%
    24.5%
Basketmakers at first glance appear to have been slightly more prosperous than shoemakers, but since, as a group, they were considerably older, and thus had had more time to accumulate property, we should discount this appearance of slight advantage. Basketmakers were almost identical in age with the Shrewsbury nonshoemaking craftsmen, and thus the basketmakers' economic disadvantage compared with blacksmiths, carpenters, tanners, wheelwrights, harness makers and gunsmiths is not simply a function of age.
Some Worcester County basketmakers were reasonably prosperous; the most successful of them centered in West Boylston, where three individuals owned farms. Levi Pierce at age 55 owned a farm of 102 acres worth $4,000, with a horse, pair of working oxen, 4 cows, and complements of swine and poultry; the farm produced significant amounts of hay, butter, cheese, potatoes, garden crops and $72 worth of slaughtered meat during the year. Levi listed his occupation as basketmaker but his 16-year-old son, Levi M., was put down as a farmer; this suggests that the older Pierce may have concentrated on his basketmaking trade while combining it with agriculture. Levi's younger brother Ezra owned a much smaller place of 22 acres which would have required part of his attention; he had no children old enough to help out. Edmund F. Brigham owned a farm of intermediate size, 46 acres, but which actually had more cultivated land than Levi Pierce's and had similar levels of production.23
Brigham, however, had an Irish farm laborer in his household, whose work presumably freed him to concentrate on basketmaking. No other Worcester County basketmakers were as prosperous as these three. The brothers Justin and Edmund Maynard of Leominster owned real estate valued at $1,150 and $900, but these properties were probably houses on small acreages, perhaps together with some wood lots. Other central Massachusetts basketmakers owned much smaller amounts, perhaps a very small house or a few acres of land, or none at all. One (Stephen Cole of Sutton) was blind. Compared to other trades, relatively few of them were in their twenties, suggesting that their craft was not growing.24
Comparative Age Structure 185025
Age Range
Worc. Co.
Basketmakers
Shrewsbury
Nonshoemaking
      Artisans      
Shrewsbury
Shoemakers
60-
  7.1%
  9.4%
      1.4%
50 - 59
14.3%
15.6%
    11.7%
40 - 49
21.4%
25.0%
    14.1%
30 - 39
46.4%
32.8%
    31.8%
20 - 29
10.7%
17.2%
    36.6%
Making a living as a basketmaker seems to have been a precarious enterprise for most, although some basketmakers achieved substantial prosperity. The majority were struggling artisans who led very modest lives in country towns.
Beyond this, our knowledge about "Yankee" basketmakers and their lives is meager. We don't yet know what distinguished the successful few from the others, in terms of product, or scale of organization. We don't know whether propertyless basketmakers worked alone in rented shops, in a corner of their lodgings, or worked for others. We hope to be able to find better answers to these questions.
Yankee basketmakers' wares were sold locally through stores, through personal contacts with customers, and occasionally through peddlars. Several account book and store account entries can furnish examples of basket prices during the period. Frequently, the same type of basket was offered at different prices, probably a reflection of differences in size and quality. Examples listed here also reflect changing prices over widely different periods of time.
From the account book of Timothy Allen of Sturbridge:
| | | | |
| --- | --- | --- | --- |
| 1841 | Oct 1st | by two 1˝ bushel baskets | 1.25 |
| |    "   " | by three 1 bushel baskets | 1.50 |
| | Oct 2 | to a bushel basket |   .50    26 |
From the ledger of Isaac Metcalf of Royalston, Massachusetts:
John Shepardson sells June 1811

By 1 cheese basket   $0.57                27
From the New Lebanon Shaker Community:
1809.
Nov. 7.
To 4 Baskets
$2.00
1811.
Sept. 23.
To 3 Baskets
$1.50
1831
April 29.
To 1 Basket
@ 8/     1 do @ 4/
$1.50
1833.
June 1.
To 1 large cheese
      basket
$1.00
July 4.
To 1 Tool Basket
$0.75
1835.
July 6.
To 12 Baskets @ 2/6)
      24     "       @ 1/)
$9.45      28
and from Robert Williams daybooks:
1817
May 28
Rec'd of Jepthah Pool to sell
     [or re-] turn
1 Corn Basket
@ 4/ -
  .67
1  "        "
@ 5/ -
  .83
2 clothes     "
@ 4/ -
1.33
1    "           "
@ 2/ -
  .50
1 Cheese    "
@ 4/ -
1.33
4    "           "
@ 3/ -
2.00 = 6.66
Little information is available to clarify the extent to which baskets were commonly used as accurate measures. In Massachusetts, an act of 1700 prescribed that "the bushel used for the sale of meat, fruits, and other things, usually sold by the heap, shall not be less than 18˝ inches wide; the peck not less than 10 3/4, and the half peck not less than 9 inches."30 This act was intended to prohibit the use of bushels, which might be accurate cubically but too narrow and deep to suit the "heap." In 1701, the "Winchester bushel" was defined in England by an act of 13 William III, ch. 5, as the standard measure for grain, and was applied to any vessel 18˝ inches in diameter and 8 inches deep.
The 1821 Report of Weights and Measures, by the U. S. Secretary of State (John Quincy Adams) recommended adoption of the Winchester bushel, to include any vessel of 2,150.42 cubic inches or any cubic vessel 12.9 inches in length, breadth, and thickness.
... the standards of all the states are now, or by their laws should be, the same as herein proposed, excepting only the Connecticut bushel, the change in which is considerable.31
To what extent these acts were enforced and applied to basketmaking are not clear. If measurement accuracy was important, the use of molds in the manufacturing process may have been more extensive than is presently known. In any case, baskets often were and still can be produced with little more than a mallet and a knife.
Splint, willow osier, and straw were the traditional materials used in weaving basketware. Splint was generally made from black ash, hickory, poplar, or white oak.
The basketmaker will want young oaks, ash, and willow.... For the purpose of making baskets, the lower part of the trunk of young white oak trees is very much used, on account of its great elasticity and suppleness, and the evenness with which it may be divided into narrow strips or ribbons, when in that stage of growth. For this purpose, it is worth twenty dollars per cord.
The wood of the black ash is remarkable for its toughness. On this account, it was preferred to every other, by the Indians, for the manufacture of baskets, and is still used for that purpose in preference to every kind of wood, except that of the trunk of a young white oak.32
A black ash log was worked green or immersed in water until needed; and splint was made by pounding the log with mallets so that each annual growth ring was loosened and could be separated from adjoining layers in long, thin strips. The splint could be stored dry, then soaked in water if necessary to make it pliable again. White oak had to be split, rather than pounded. A straight, green log was first split with wedges and a mallet. Then these halves were split again, or quartered several times with a froe. Each billet was then repeatedly rived, either with a froe or a knife, parallel to the growth rings, then "dressed" to produce thin splits suitable for weaving. White ash splints were often made by splitting the log into several billets, and then pounding the billets to release the splint.
Young willow shoots, or osiers, were also used for basketmaking and they grew abundantly along streams and in marshy areas in New England. Farmers were encouraged to cultivate the osiers commercially.
The osier willow is worthy a place on every farm, because it takes up very little ground, requires very little care, and furnished the best materials for baskets, which are indispensable to the farmer.33
In the fall, the osier whips were cut in lengths of about 30 inches and tied in bundles. They could be used either peeled, or with the bark left on; and, like splint, needed to be soaked before use. Willow baskets were woven in a manner similar to techniques used for splint baskets, and occasionally both materials were used together.34
Straw basketware, conceivably the oldest type of basketry, was constructed from rope-like coils of twisted straw. The coils could be bound together with very thin, flexible splint of hickory (or sometimes hazel) laced through holes punched in the straw with an awl. Any straw could be used, but rye straw was probably the most common. A wide variety of sizes and shapes could be achieved, and straw beehives were still in widespread use as late as the 1850s. "Of all the substances of which hives are made, and they are many, straw has been most generally preferred."35
In the mid-nineteenth century, veneering machines which could "peel" a log were developed; and this made basketmaking much quicker, since the cutting and preparation of splint had been one of the most time-consuming aspects of the trade. Splint basket factories began to appear all over the United States about the time of the Civil War, and they flourished in most areas until very near the end of the century.
Finally, machines were developed for the actual construction of the basket as well, and the old handcraft began to disappear:
The panic of 1893 marked the beginning of the industry's decline. The next blow came with machine-made baskets, which so decreased business that the younger men, seeing no future in the old craft, sought other work....36
Traditional American basketmaking now exists primarily as a craft demonstration in a few living history museums, and in the work of a few independent individuals devoted to its preservation.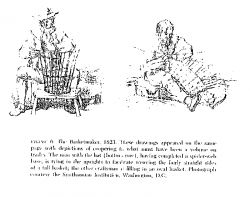 From:   Teleki, Gloria Roth. The Baskets of Rural America.

            N. Y. E. P. Dutton, 1975, p. 30.
FOOTNOTES
  1. Bobart, H. H., Basketwork Through the Ages, London and New York: Oxford University Press, 1936, passim.
  2. Cummings, Abbot Lowell, ed., Rural Household Inventories, Boston: Society for the Preservation of New England Antiquities, 1964, passim.
  3. Ibid.
  5. Bradford, William, et al., Homes in the Wilderness: A Pilgrim's Journal of the Plimoth Plantation in 1620 reissued, New York: William R. Scott Inc., 1939.
  6. Ibid.
  7. Teleki, Gloria Roth, The Baskets of Rural America New York: E. P. Dutton, 1975, pp. 55 - 6.
  8. Ledyard, Bill, The History of Paxton, Worcester: Putnam, Davis, and Co., 1889, p. 45.
  9. McMullen, Ann, "Tribal Style in Woodsplint Basketry," Artifacts, Vol. XI, No. 4, 1983.
10. Brasser, Ted J., A Basketful of Indian Culture Change, Canadian Ethnology Service, No. 22, Ottawa: National Museums of Canada, 1975.
11. Larason, Lew, The Basket Collector's Book, Chalfon, Pa.: Scorpio Publication, 1978, p. 8.
12. Andrews, Edward D., The Community Industries of the Shakers, Philadelphia: Porcupine Press, 1972, p. 164.
13. Tryon, Rolla Milton, Household Manufactures in the United States 1640 - 1860, New York: Augustus Kelley, 1966, p. 221.
14. Little, William, The History of Weare, New Hampshire 1735 - 1888, p. 539. Also see: Writers Program of WPA, Hands that Built New Hampshire, Brattleboro: Stephen Daye Press, 1940, p. 4.
15. MS Schedules, U. S. Census of Manufactures, 1820 (Microfilm, OSV Research Library).
16. Massachusetts Secretary of the Commonwealth, Statistical Tables: Exhibiting the conditions and products of certain branches of industry in Massachusetts 1837, Boston: Dutton and Wentworth, 1838.
17. Daybook of Robert Williams, (Blotter #2) Historic Deerfield: Henry Glint Library, 1817 - 1823.
18. -----------, "Basketmaking in New England During the Nineteenth Century," Middleborough Antiquarian, VIII (April, 1966) pp. 6 - 7.
19. Massachusetts Secretary of the Commonwealth, Statistical Tables: ...for Certain Branches of Industry in Massachusetts, 1845, Boston: Dutton and Wentworth, 1846.
20. Emerson, George B., A Report on the Trees and Shrubs Growing Naturally in the Forests of Massachusetts, Boston: Dutton and Wentworth, 1846, p. 13.
21. MS Population Schedules, Worcester County, Massachusetts, U. S. Census of 1850 (Microfilm, OSV Research Library).
22. Ibid.
23. MS Agriculture Schedules, Worcester County, Massachusetts, U. S. Census of 1850 (Microfilm, OSV Research Library).
24. Ibid.
25. MS Population Schedules, Worcester County, Massachusetts, U. S. Census of 1850, op. cit.
26. Account Book of Timothy Allen of Sturbridge, OSV Research Library, p. 103.
27. Ledger of Isaac Metcalf of Royalston, Mass., Harvard Business School: Baker Library, 1811, facing page 31.
28. from Andrews, Edward D., op. cit., p. 166.
29. Daybook of Robert Williams, op. cit.
30. U. S. Secretary of State, Report on Weights and Measures, Washington: Gales and Seaton, 1821, p. 96.
31. Ibid. p. 128.
32. Emerson, op. cit., pp. 20 and 130.
33. The Cultivator, II, May, 1835, p. 37.
34. Hopf, Carroll J., Basketware of the Northeast: A Survey of Types of Basketware Used on the Farm from Colonial Period to 1860. Cooperstown Graduate Program Thesis 1965, p. 31 and figure 43.
35. Gaskins, James, The Farmer's Guide or a New Theory of Agriculture, Baltimore: 1838, p. 115.
36. McClees, John V., "Baskets and Their Making: A Pictorial Demonstration,": Antiques, May 1931.