Old Sturbridge Village honored documentary filmmaker Ken Burns in 2008 for his commitment to making history accessible to the public. Through the annual Ken Burns Lifetime Achievement Award, he and the Village continue to honor individuals who have made a significant contribution to the preservation of history through the arts.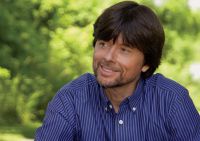 Ken Burns made his very first film, Working in Rural New England, at Old Sturbridge Village in 1975 when he was a senior at Hampshire College. It was the very first time he used the famous panning technique that would come to be known as the "Ken Burns Effect." He noted that "it was the first film that I signed my name to... the first film in which I felt I was the author...My professional life began here at Old Sturbridge Village." See video.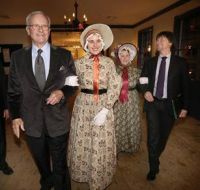 Tom Brokaw's brilliant career as one of the nation's most trusted journalists has earned him the admiration of millions, as well as every major accolade in his craft, including Peabody, Dupont, and Emmy Awards, and lifetime achievement recognition. During his long career with NBC News, he was White House correspondent during Watergate, anchor of the Today show, anchor and managing editor of NBC Nightly News with Tom Brokaw, and is currently an NBC News Special Correspondent. He is the author of six books, including The Greatest Generation, one of the most popular nonfiction books of the 20th century. We were proud to present Mr. Brokaw with the 2012 Ken Burns Lifetime Achievement Award on November 27, 2012 at a dinner and ceremony sponsored by Fallon Community Health Plan.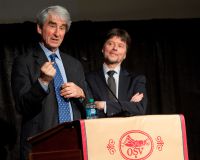 The 2011 award was presented to Sam Waterston. Sam Waterston's brilliant film, stage, and television performances have earned him the admiration of millions, accolades including Emmy, Golden Globe, and Screen Actors Guild Awards, and an Academy Award nomination. Best known as D.A. Jack McCoy on TV's Law and Order, Waterston also portrayed Abraham Lincoln in the Tony Award-winning play Abe Lincoln in Illinois, in Gore Vidal's mini-series Lincoln, and he voiced the role of Lincoln in Ken Burns's acclaimed documentary The Civil War. See video.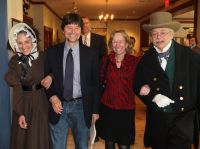 In 2010, Doris Kearns Goodwin, the Pulitzer Prize-winning author and presidential historian, was chosen for the award. Her books Team of Rivals: The Political Genius of Abraham Lincoln, and Lyndon Johnson and the American Dream, were New York Times bestsellers and she won the Pulitzer Prize for No Ordinary Time: Franklin and Eleanor Roosevelt: The Home Front in World War II. "I visited Old Sturbridge Village with my own children, so I know how much it inspires young people and helps them connect with their past," Goodwin said. See video.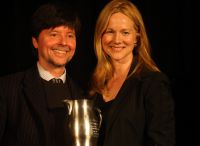 In 2009, Ken Burns and OSV presented the award to Laura Linney for her Emmy Award-winning portrayal of Abigail Adams in the HBO series John Adams. To prepare for the role, Linney drew on her experiences in New England -- including her very first field trip to Old Sturbridge Village at age six. She recalled: "Who knew that decades later my memories would help me portray this wonderful woman?" See video.