Hundreds of Revolutionary re-enactors encamped at OSV
Nearly 40 historical military re-enactment units -- with more than 600 Revolutionary War re-enactors -- will take part in the sixth annual Redcoats to Rebels weekend at Old Sturbridge Village on Saturday and Sunday, August 2 & 3.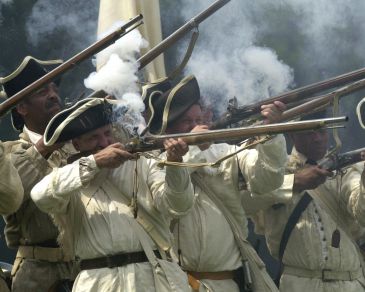 For two days the troops -- both British and Colonials (and their allies) -- will engage in such things as mock battles, marching, firearms and cannon firing, fife and drum music, historical fencing, and even a period fashion show.
Village visitors can stroll through the encampments, chat with the troops and their accompanying civilians, and experience the sights, sounds, smells, and sensations of early military life.
Among the Colonial units signed up are the Billerica Colonial Minutemen, Eleventh Pennsylvania Regiment, Fifth Connecticut Regiment, Second Rhode Island Regiment of the Continental Line, Whitcomb's Rangers, and the Third New York. Among units representing the "bad guys" (British, and Hessian mercenaries) are the Eighth King's Regiment of Foot, The Sign of the Roaring Lion, Sixteenth Queen's Light Dragoons, Royal Irish Artillery, the HMS Somerset crew, and the Royal Welsh Fusiliers.
As the sun goes down and camp fires are lit, visitors are encouraged to linger longer for the special "Twlilight Encampment" (Saturday only, until 8 p.m.), which is free for the day's visitors and Village members. A late-day admission fee is available after 5:00 p.m.
All Redcoats to Rebels attendees will receive a $2 discount to a Civil War re-enactment the same weekend in neighboring Brimfield, Mass. For details, visit: www.osv.org; or call 1-800-733-1830.